William Wordsworth - Creativity and Writing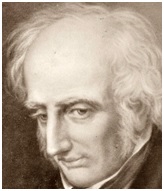 William Wordsworth (1770-1850)
English poet (pictured right), famous for describing the beauty of nature.
He lived with his sister, Dorothy (pictured right below), in the English Lake District, which inspired his greatest poems.
What did he say about nature?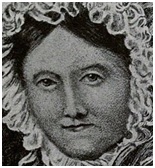 1. Nature is beauty
He never ceased to wonder at the beauty of nature.
His most famous poem, Daffodils (written in 1804) starts:
"I wandered lonely as a cloud that floats on high oe'r vales and hills. When all at once I saw a crowd, a host of golden daffodils".
2. Nature is joy
At the end of the Daffodils poem, he reflects on their ability to lift the spirit:
"and then my heart with pleasure fills, and dances with the daffodils".
The poem was inspired by daffodils on the shore of Ullswater (pictured right), a beautiful lake in the Lake District.
"Poetry is passion", he said, and nature inspired that passion.
3. Nature is threatening
He thought that nature (like a storm) could frighten as well as thrill.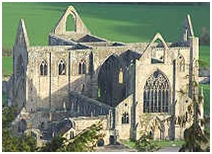 4. Nature as a friend
If you love nature, it will love you.
"Nature never did betray the heart that loved her", he wrote in Tintern Abbey (inspired by the abbey, pictured right), .
5. Nature is in peril
People's greed and ignorance are nature's enemies.
In another great poem, Tintern Abbey he called such stupidity:
"the still, sad music of humanity".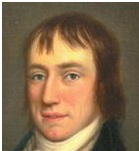 6. Nature is God
Wordsworth (pictured right in 1798) believed:
God is in nature (called pantheism).
to know nature is to know God's mind.
So nature:
tells us about the eternal truths of love, beauty and hope.
"feeds upon infinity", as he wrote in The Prelude.
"Loving God means loving nature", he said in Tintern Abbey.
7. Nature is reflection
Nature encourages you to think about yourself and your problems such as pain and bereavement.
"To me the meanest flower that blows can give thoughts that too often lie too deep for tears", he wrote in Ode: Intimations of Immortality.

Key quote on money
Getting and spending, we lay waste our powers. (The World Is Too Much With Us).
Key quote on love
The best portion of a good man's life, his little, nameless unremembered acts of kindness and of love. (Tintern Abbey)
Key quote on wisdom
Wisdom is oft times nearer when we stoop than we soar. (The Excursion).
Key quote on peace of mind
I was taught to feel, perhaps too much, the self-sufficing power of solitude (The Prelude).
Key quote on creativity
Imagination...is but another name for absolute power (The Prelude).