Manchester United - Cash, Costs and Customer Satisfaction
Manchester United
Manchester United is one of the world's most successful football (or soccer) teams.
It has had: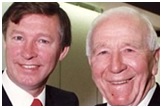 great managers (particularly Matt Busby and Alex Ferguson, pictured right together).
many footballing triumphs (including three European Cup victories in 1968, 1999 and 2008).
Key people
The Glazer family
American owners who bought Manchester United in 2005, saddling it with huge debts.
Malcolm Glazer's death in 2014 gave control to his sons, Joel and Avram

Louis van Gaal
Team manager, pictured right (who succeeded Alex Ferguson's replacement, David Moyes in 2014).
Ed Woodward
Executive vice-chairman responsible for running the club.

Manchester United's footballers
(particularly its star player, Wayne Rooney).
Great past players include:
David Beckham (pictured right above as a young lad with Alex Ferguson).
60's stars - pictured right - George Best (right), Bobby Charlton (left), Denis Law (middle).
Duncan Edwards (a tragic victim of the 1958 Munich Air Crash).

Key quotes
What if Ferguson leaves, or Rooney breaks a leg?
- David Newman, London investment fund manager on the riskiness of lending to Manchester United (quoted in the Financial Times 6 March 2010) - this risk was shown by the dramatic deterioration in the team's performance after Ferguson's retirement.
Debt has acted like a leech on the club, sucking money out of the football budget to the Glazers and their bankers.
- Paul Marshall, one of the Red Knights consortium that nearly put in a bid for the club in 2010

I have always tried to be the bridge between the club and the fans
- Alex Ferguson, team manager 1986-2013 (pictured right).
Key competitors
Arsenal and Liverpool (like Manchester United with massive debts and in 2010 paying over £40 million in loan interest payments).
Chelsea (owned by the Russian billionaire, Roman Abramovich) .
Manchester City (owned by the ruling family of oil rich Abu Dhabi).
Introduction – Cups make cash!
Manchester United is a global brand and the world's third largest football (or soccer) club behind Real Madrid and Barcelona.
Under its former manager, Alex Ferguson, it was incredibly successful, winning the:
English Premier League 13 times
European Champions League in 1999 and 2008 (first won in 1968 by its other great manager, Matt Busby, pictured right with the trophy)
But the club hasn't been doing so well since Ferguson's retirement in 2013.
Success on the pitch means cash in the tills and, like any other organization, Manchester United must create cash to survive and thrive...

Manchester United's cash creators
1. Controlling costs (particularly wages)
The main ways for Manchester United to reduce costs are:
a) home grown talent
(like David Beckham)
This reduces the amount spent on transfer fees to buy outside players like Wayne Rooney (£30 million from the Liverpool club, Everton).
Rooney (left) is pictured right with Beckham.
b) reduce players' wages

These are by far the biggest expense of a football club.
Alan Sugar, British businessman (pictured right) and ex-chairman of the top London club, Tottenham Hotspur, calls this the "prune juice" effect –
Money goes in one end of the club and goes out the other in the form of players' wages.
c) calculate the wages/turnover ratio
(wages as a percentage of turnover ,or sales revenue).
This is the key performance indicator for control of pay.
In the year ended June 30, 2014 Manchester United's ratio was 49.6% ,nearly the lowest in the Premier League and lower than:
71% (the average for the Premier League) - according to Deloitte's Annual Review of Football Finance 2014.
55.1% (for Manchester United's arch rival, Arsenal)
2. Loans
Loans have been a controversial issue with Manchester United supporters ever since the Glazer family borrowed £518 million to buy the club in 2005
They did this in a leveraged buy-out (leveraged simply means using debt to finance the deal).
The danger is that the interest paid out on loans (£27.7 million in 2013, compared to £72.1 million in 2012) will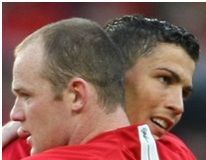 :
reduce spending on other things (like new players).
force the sale of existing players (like the £80 million transfer of Ronaldo, to Real Madrid in 2009).
Ronaldo is pictured right with Rooney.
Key indicators of a club's debt position
Interest cover
Operating profit (before the deduction of tax and loan interest payments)
---
Loan interest payments
For the year ended 30 June 2014 Manchester United's interest cover was :
£67,915,000
---
£27,668,000
= 2.45 (a large increase from 0.86 in 2013)
In other words its profit was over twice its loan interest payments.
This shows a much lower level of debt, but its gearing ratio remained quite high...
Gearing ratio (or debt-to-equity ratio)
Total borrowings x 100%
---
Net assets [fixed assets + (current assets – current liabilities)]
In the year ended 30 June 2014 Manchester United's gearing ratio was:
£ 326,803,000 x100%
---
£913,987,000
= 35.8% (falling from 42.9% in 2013)
Arsenal's ratio was slightly higher at 38.3%.
3. Fantastic football
Manchester United has always put people (its players, other staff and supporters) first.
Its vision is "to be the best football club both on and off the pitch".
Responsibile for achieving this vision are:

Louis van Gaal, team manager (responsible for team performance).
Ed Woodward, executive vice-chairman, pictured right (in charge of running the club) .
Without football you have no customers and no cash.
So apart from financial prudence, two key values for the future of football (identified by the European football governing body, UEFA, in 2009) are:
integrity (playing with honesty and dignity).
4. Revving up the revenue
Manchester United is a global brand with universal appeal (with at least 75 million fans worldwide).
This and its success on the pitch allow it to maximize its various revenues:
a) matchday
(£108.1 million in the year ended 30 June 2014)
ticket sales (Old Trafford, Manchester United's ground, has a capacity of nearly 76,000 seats)
hospitality income (from corporate customers).
b) commercial
(£189.3 million in the year ended June 2014)
sponsorship (35 sponsors including Nike and Aon, the American insurance company)
merchandising (the sale of Manchester United products like football kit).
financial services (Manchester United's finance company sells loans, credit cards and car insurance).
c) broadcasting
(£135.7 million in the year ended June 2014)
television (Sky, BT Broadband and the BBC)
MUTV (its subscription TV channel).
A big thank you to...
This case study has been based on lots of different articles but two have been particularly useful:
Roger Blitz and Anousha Sakoui, A Contested Goal (Financial Times March 6/7 2010)
Deloitte's Annual Review of Football 2014 .