Elton John - Creativity and Music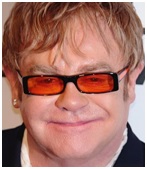 Elton John (1947- )
English pop star (pictured right in 2011), songwriter and charity worker (particularly for AIDS).
The revised 1997 version of Candle in the Wind, written in tribute to Princess Diana, is the fastest selling single ever.
He says his greatest achievement was overcoming his drug and alcohol addiction, helped by:
Alcoholics Anonymous
his partner (David Furnish, pictured right in 2009).
Why is he so creative?
1. Teamwork
He wrote his biggest hits like Candle in the Wind (about Marilyn Monroe) with Bernie Taupin .
Taupin sends the words to Elton who then writes the music on his piano
He similarly co-wrote the songs for the Disney movie, The Lion King, with Tim Rice and won an Oscar (pictured right together, courtesy of the BBC).
The record producer, Gus Dudgeon, and his backing band also helped him create
his early hits (including his first hit, Your Song).
his great 1973 album , Goodbye Yellow Brick Road.
Dudgeon is pictured right with Bernie Taupin (left) and Elton John.
2. Talent
His huge talent enables him to write his music so quickly (one of his best songs, Rocket Man, took only 10 minutes!).

At the age of three, he started playing the piano by ear, and his teacher at the Royal Academy of Music in London played him some Handel, which he promptly played back to her without the music!
He loves Chopin, Bach (pictured right) and Mozart (pictured right below), and his classical music training helps his songwriting.
3. Learning and ambition

To achieve his dream of being a rock musician, he learned from:
his time as a pub pianist in the 1960's
his first band, Bluesology (a backing group for the singer, Long John Baldry).
other great musicians (particularly John Lennon, pictured right below and The Beatles, his biggest influence)
listening to all types of popular music.

4. Customer satisfaction
John produces all types of music, rock and ballads, to entertain people of all ages like his first big hit the love ballad, Your Song.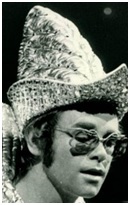 He is also renowned for his great live performances, adorned by glamorous costumes and spectacles!
He is pictured right in a 1975 concert.
5. Love of music
He is obsessed with and passionate about creating great music.
His love of music was encouraged by his mother (pictured right below together, courtesy of the Press Association).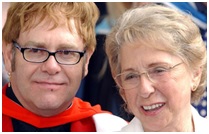 6. Competitiveness and hard work
He has always wanted to be the best, and criticism only spurs him on to do even better.
He also practised hard to launch and sustain his career.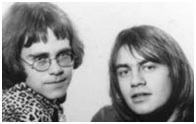 7. Freedom
In the 1970's, he produced his best music (17 albums in six years!), because he didn't feel any pressure.
He and his co-writer, Bernie Taupin (pictured right together), just went in and did an album without any pressure from the record company to come up with hit singles.
He also likes to break the rules to create new types of music.
Key quote on creativity
I like to break the rules a bit.
Key quote on death
I tried to commit suicide one day...I turned on the gas and left all the windows open.
Key quote on careers
The only way to sustain a career is to pay your dues (on the importance of practice and experience).
Key quotes on happiness
Fame attracts lunatics.
The demons that I had inside me, the fear of confrontation, the shyness, the self-loathing, because of David and my recovery [from addiction], it's really so much better. I'm quite at peace with myself now (in October 2010)