Madonna - Success and Creativity
Madonna (1958- )
American pop star (pictured right).
Born Madonna Louise Ciconne in America (pictured right), she is:
the biggest selling female pop artist and songwriter ever.
a successful movie star in films like Desperately Seeking Susan and Evita (as Eva Peron, pictured right).
Why is she so successful and creative?
1. Purpose, ambition and hard work
Her dream was to be a superstar in movies and pop music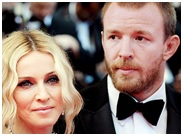 She single-mindedly dedicated her life to achieving it with enormous drive and energy.
This has led to problems in her personal life, including two failed marriages to the actor, Sean Penn, and the British film director, Greg Ritchie (pictured right together).
2. Courage and determination
Madonna:
coped (aged five) with her mother's death from breast cancer
took brave risks for her career.
worked part-time (to finance her dance and singing career in New York in the late 1970's)
"Better to live one year as a tiger than a hundred as a sheep", she says.
3. Ruthlessly exploiting her strengths
Madonna:

fully developed her talent as a singer, songwriter, dancer and actress,
successfully exploited her relationships with her record companies and managers, particularly Freddy DeMann (pictured right) in the early 80's (also Michael Jackson's manager).
created several companies, like her record company, Maverick, to maximize her success.
is tough and knows exactly what she wants
"Sometimes you have to be a bitch to get things done", she says.
4. Creativity and change
She is known as the 'queen of reinvention' and has continually changed her style, music and image to sustain her popularity (see also point 5):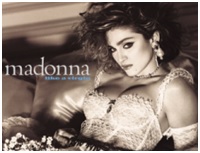 raunchy punk in the early 80's (with songs including her biggest hit, Like A Virgin, pictured right).
glam rock and Marilyn Monroe retro in the late 80's.
soft porn image of the early 90's.
the spiritual Madonna in the late 90's (with motherhood and her conversion to Judaism).
She has been in constant rebellion against the Roman Catholicism of her childhood with explicitly sexy songs, videos and concerts.
The video of the song, Like A Prayer (pictured right below), was branded as blasphemous by the Pope in 1989, forcing Pepsi to scrap a Madonna commercial, despite paying her $5 million!
5. Customer satisfaction
Since her first hit in 1984, she has delighted millions of fans worldwide with her music, movies and magical concerts - why?
a) understanding the music business and customers' wants
She saw the big potential of MTV in America to promote her songs.
b) market research
She was one of the first pop stars to use market research, testing the popularity of disco music in clubs for her 2005 album, Confessions on a Dance Floor (the album cover is pictured right).
c) publicity
A genius at self-publicity, she has thrilled, sometimes shocked, but never bored people.
6. Continuous learning
She has learned from
a) her father (pictured right together)
He has been her biggest influence and paid for her ballet lessons.
b) education
She was bright at school, and particularly good at sport, drama and dance
c) failures
(like her 2003 album, American Life, the album cover is pictured right).
d) other people in show business
She learned from great choreographers, musicians and actors, particularly:
Frédéric Chopin, the Polish classical composer.
Frank Sinatra, the singer, pictured right below (she likes to sing his song, My Way, in the shower!).
7. Health

Yoga and her low fat diet full of fruit and vegetables, keep her incredibly fit and energetic.
But she gives herself treats like 7-Up and M&M's!
8. Relaxation
She has four children (she only wants to be remembered as a good mother) - pictured right below with her daughter Mercy)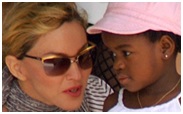 One of her favourite films is To Kill A Mockingbird.
Key quotes on success
Better to live one year as a tiger than a hundred as a sheep
I wanted to do everything everybody told me I couldn't do.
We are responsible for our own fate.
Key quotes on love
We get what we give.
To be brave is to love someone unconditionally without expecting anything in return.
Key quote on stress and pain
Life's too short to be bitter.