Richard Branson Leadership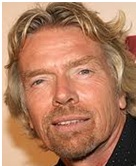 Richard Branson (1950- )
English businessman (pictured right), who set up his company, Virgin, in 1970 as a mail order record business.
He then produced records for artists like the Sex Pistols and Mike Oldfield (whose album, Tubular Bells, made Branson a millionaire), .
But he sold his record company to EMI in 1992 to finance his airline, Virgin Atlantic and numerous other Virgin businesses like mobile phones, video games and a new record company V2 (which signed the Stereophonics).
Why is he a great leader?
1. Purpose and fun
He went into business not just to make money but to have some fun and "create something you are proud of", he says.
He wants to beat established companies with great value and service, supported by the Virgin brand. So he is constantly listening and learning from customers and employees about how to improve Virgin's products.

He is a practical joker with a love of parties and adventure.
In 1987 he nearly died when making the first transatlantic hot air balloon flight (pictured right with his co-pilot, Per Lindstrand)
2. Risk taker
His love of adventure shows he is prepared to take risks (everyone thought he was mad to set up an airline).
But he always tries to minimize his losses, if the business fails. "Limit the downside", he says.
For example, he didn't buy the planes for his airline but leased them.
He also seeks partnerships with other companies to finance his businesses (called joint ventures or strategic alliances).
3. Tough but nice
Branson (pictured right) believes a reputation for honesty and fairness is crucial to success, learning painfully from being fined and briefly imprisoned for tax evasion in 1971.
He hates making people redundant and is great with people (see points 4 and 5).
But he's also:
a brilliant, ruthless negotiator.
resolute in defending his interests.
He is never afraid to sue people like his successful libel action in 1993 against British Airways' dirty tricks campaign, which tried to damage the reputation of Virgin Atlantic.
4. People person
He has a deep sense of responsibility for other people and manages to keep a loyal and motivated workforce, despite often paying them less than competitors.
He believes that happy employees mean happy customers and so happy shareholders (because of higher profits).
After a motorway accident in 1994 that nearly killed him and his family, he still answered all the 200 letters that fell out of the car and were returned to him by the police.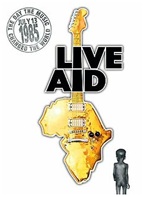 His charm and enthusiasm win people over, helped by his support of good causes like:
Live Aid (pictured right) in 1985 (his planes sent food to Ethiopia)
His book, Screw Business As Usual, strongly supports corporate social responsibility, particularly protecting the environment.
He motivates his staff by:
praise and listening to their problems.
keeping them well informed.
making their work as fun as possible, giving them autonomy and control over their work.
He would like his epitaph to be:
"He treated people well".
5. Down-to-earth
Despite being incredibly wealthy (he's worth billions), he is modest and fairly indifferent towards material things, like his mansion in Oxfordshire, home in London, and his own island in the Caribbean.
Earlier, when he lived in a houseboat, it sank.
But he wasn't bothered because he recovered the one thing that mattered most to him, a family photo album.
6. Love of change and innovation
His business never stands still.
He is always looking to create new Virgin businesses (including space travel!) where:
there is big demand and competition is weak.
he is confident he can do it better than anybody else.
He encourages creativity by:
a) disliking conventional wisdom
(continually seeking new and better ways of doing things).
b) bureaucracy busting
(removing unnecessary bureaucracy).
c) listening
(to good ideas from employees and customers).
d) giving employees power and autonomy
(to carry out new ideas in small groups and companies, so they feel involved and valued).
7. Brilliant publicist
He has used himself to advertise Virgin with style and humour, including dressing up as a bride to launch Virgin's weddings business (pictured right).
8. Action with reflection
Inspired by his active mother (who banned TV), he is always thinking what to do.
This is why he is an inveterate list maker (lists of jobs to do, ideas, people to meet and call etc) and notepad writer, scribbling down notes about conversations and the suggestions of customers and employees.
He's a great listener, giving people his undivided attention.
When he decides to do something, he does it very quickly. "Move like a bullet", he says.
It took him and his small team only four months to get Virgin Atlantic started.
9. Great organizer
Despite his informal and relaxed manner, he keeps all his businesses working well by:
delegating to good people.
keeping a tight control over costs.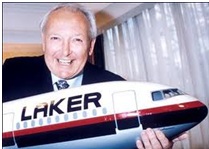 10. Learning and living with failure
He is continuously learning from:
other people (the airline owner, Freddie Laker, is his big hero, pictured right).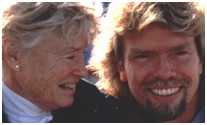 His mother, Eve (pictured right together), taught him to:
never have regrets, moving on from setbacks and learning from mistakes.
survive (aged five he was told to get out of the car and find his own way home, three miles away).
keep your feet on the ground.
He tries lots of new things and accepts he will have some failures, like:
his first business, a student magazine.
his failure to take over the British National Lottery in 1994 and 2000.
His brief imprisonment for VAT evasion in 1971 taught him the importance of integrity and reputation.

11. Determination and self-belief
Branson:
overcame dyslexia and the death of his first baby, Clare.
successfully battled for Virgin's survival during the 1970's when it was constantly short of cash.
His happy childhood and private school education gave him the confidence and optimism to succeed.
12. Hard work and family support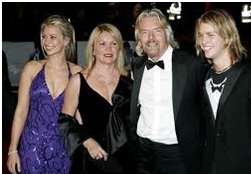 He is a highly ambitious and energetic workaholic, which led to the break up of his first marriage.
But his second marriage to Joan has been a big success and his family (pictured right) is more important to him than his career.
13. Intuition
He relies more on gut instinct than statistical analysis before making a decision.
He usually takes only 30 seconds to decide whether or not a business proposal excites him.
Key quote on the service-profit chain
If you start off with a happy, well motivated workforce, you're much more likely to have happy customers
Key quote on corporate strategy
Business opportunities are like buses, there's always another one coming.
Key quotes on leadership
If you're a leader of people, you've got to put people's faults on one side and draw out all their good points.
I believe in benevolent dictatorship provided I am the dictator.
Key quotes on business success
Business is giving people in their lifetime what they need and what they want.
The absolute key to success is being able to motivate people and looking for the best in people
Key quote on happiness and objectives
My interest in life comes from setting myself huge, apparently unachievable, challenges and trying to rise above them.
Key quotes on success
Success must bring obligations.
Success depends on people's enthusiasm, their dependability and their effectiveness
Failing isn't important in life...Trying is what matters.
Key quote on decision making
If you don't take risks, you won't achieve anything.
Key quote on the future
Fantasizing about the future is one of my favourite pastimes.
Key quote on ethics and reputation
All you have in your life is your reputation
Key quote on work
Whatever one's doing in life, do it well, enjoy doing it and do it with a smile.
Key quote on learning
A setback is never a bad experience, just another one of life's lessons
Key quote on corporate social responsibility
Doing good is good for business.
Key quote on customer satisfaction
Don't deliver what you can't deliver and deliver everything you promise.
Key quote on empowerment
The more you free your people to think for themselves, the more they can help you