Chariots of Fire - Success and Ethics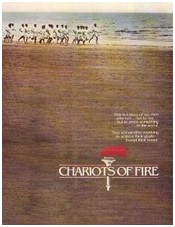 Chariots of Fire (1981)
Famous for...
The true story of the friendly rivalry in the 1924 Paris Olympics between:
Eric Liddell (a devout Scottish Christian, pictured right below) and
the English Jew, Harold Abrahams (pictured below Liddell).
Liddell refused to run the 100 metres because its qualifying heats were on a Sunday (the Christian Sabbath, or day of rest).
He decided this several months before the Olympics and concentrated on the 400 metres instead (in the film he made this decision on the boat to Paris).
The title comes from...
The English poet, William Blake's line in the hymn, Jerusalem:
"Bring me my chariot of fire!"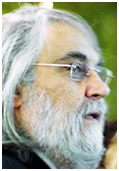 Director
Hugh Hudson.
Oscars
Four including:
best film.
best music score (by Vangelis , pictured right above, who had a big hit with it).
best original screenplay (by Colin Welland , pictured right, who famously said "The British are coming", when he accepted his Oscar).
Key characters
Harold Abrahams (Ben Cross), English athlete.
Eric Liddell (Ian Charleson), Scottish athlete- pictured right.
Lord Andrew Lindsay (Nigel Havers), English athlete.
Sam Mussabini (Ian Holm), Abrahams' coach.
Sybil Gordon (Alice Krige), Abrahams' girlfriend.
The story
Jewish Cambridge University student, Harold Abrahams
:
wins various national competitions.
falls in love with a singer, Sybil Gordon (pictured right together).
His Scottish rival, Eric Liddell, beats him in their first race, prompting Abrahams to employ a professional coach, Sam Mussabini.
Liddell and Abrahams are picked to represent Great Britain in the 1924 Olympics in Paris along with Abrahams' Cambridge friend, Lord Andrew Lindsay (pictured right in pre-Olympics training - left of centre).
On the way to Paris, Liddell discovers that the qualifying heat for his 100 metres race is on a Sunday.
Despite intense pressure from the Prince of Wales (later Edward VIII) and athletics administrators, he refuses to run because his Christian beliefs prevent him running on the Sabbath.

Liddell wants to become a Chinese missionary like his parents. His sister, Jennie (Cheryl Campbell, pictured right) is also very devout and disapproves of his running, because of its competitiveness.
Lord Lindsay kindly agrees to give up his place in the 400 metres heat, gladly accepted by Liddell.
Abrahams:
is badly beaten by the Americans in the 200 metres.
wins the 100 metres, pictured right (delighting his coach, Mussabini).
Liddell wins the 400 metres, beating the Americans (including Jackson Scholz who gave him a note of support for his Christian beliefs just before the race).
The British team returns home triumphant.
As the film ends, we are told that Abrahams marries Sybil and Liddell becomes a Chinese missionary.
Lessons for success and ethics

1. Performance equals effort plus ability

Abrahams works incredibly hard to win a gold medal, helped by his coach, Sam Mussabini (Ian Holm, pictured right, in the film).
But a great athlete must also have natural ability.
"You can't put in what God left out", Mussabini tells Abrahams.
2. Principles produce performance
Liddell gains strength and resolve from his belief in God, and Abrahams is driven by the desire to win at any cost.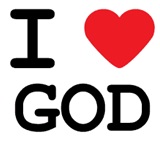 3. Don't sacrifice your principles
Despite intense pressure, Liddell won't run on a Sunday. He always puts God first.
"It's not just fun to win, the pleasure I find most rewarding is to honour Him [God]", Liddell said.
4. Be determined to win
Abrahams:
has to overcome anti-Semitism on his way to victory.
nearly loses his sweetheart, Sybil, through his obsession with winning.
"I run to win. If I can't win, I won't run",, he tells her.
He sees this obsession as a way of proving himself ("a weapon against being Jewish", he said).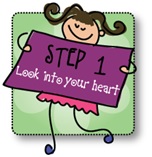 5. Examine yourself for excellence
Both Abrahams and Liddell are passionate about excellence.
"I believe in the relentless pursuit of excellence and I'll carry the future with me!", Abrahams says
The head of his Cambridge college (Caius) urges him and his fellow students to find their true potential by examining and learning from their strengths and weaknesses.
6. Winning isn't everything

Defeat for Abrahams would have been devastating, whereas Liddell would have been more philosophic, saying it was God's will.
The aristocrat, Lord Lindsay, gives up his 400 metres place to Liddell and epitomizes the original Olympic ideal of Pierre De Coubertin (pictured right):
"The essential thing is not to have won but to have fought well".
Key quotes on motivation
You can't put in what God left out, Sam Mussabini.
Where does the power come from, to see the race to its end? From within, Eric Liddell.
Key quotes on success
I've known the fear of losing but now I am almost too frightened to win, Harold Abrahams (to Sam Mussabini just before the 100 metres final).
You win because you are ruthless, Harold Abrahams.
I believe in the relentless pursuit of excellence and I'll carry the future with me!, Harold Abrahams.
Key quotes on God and religion
"I believe God made me for a purpose . But he also made me fast. And when I run, I feel His pleasure", Eric Liddell.
"If I win, I win for God", Eric Liddell.
Two film websites to recommend
1. filmsite.org (run by Tim Dirks).
2. aveleyman.com (run by Tony Sullivan)