Coco Chanel Leadership, Creativity and Design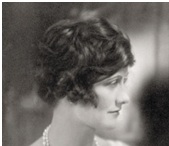 Coco Chanel (1883-1971)
French fashion designer (pictured right) and the creator of the Chanel brand, famous for its stylish clothes, hats, jewellery and perfume.
Born, Gabrielle, in a poorhouse in Saumur, France.
Her nickname, Coco, means 'little pet'.
Why was she so creative and a great leader?
1. Customer focus
She gave her customers the freedom and simplicity of men's clothing without losing their style or femininity. She wanted them to "feel" luxury and wear enduringly stylish clothes.
"Fashion changes but style endures", she said.
Her fashion was tailor-made for working women, whose numbers zoomed up after 1914.
So her biggest successes were:
her famous 'little black dress' (launched in 1952)- the film star, Audrey Hepburn is shown right wearing one.
She once cut the jersey of her lover, Boy Capel (see point 3) into a dress when she was cold at the French seaside resort of Deauville. It became a big seller, even though, up until then, women had only used jersey material for underwear!
She had a natural instinct for good fashion, and all her designs started with the question:
Could I honestly wear that?
2. Revolutionary
She rebelled against established designers and created completely new fashion.
Her clothing was practical, but still sexy and luxurious, and her hats were much smaller, less elaborate and more elegant than other people's.
Coco:
made costume jewellery fashionable with her strands of chunky fake pearls
launched the first designer scent in 1921, Chanel No.5 (with a bottle very similar to today's, pictured right).
The perfume's success was increased by her inventive marketing:
giving free samples to rich friends and American soldiers in 1945.
packaging it in a square bottle with a solid rectangle stopper.
But once she had created the basic modern woman's wardrobe, she realized the danger of change for change's sake.
"One cannot be forever innovating. I want to create classics", she said.
3. Learning and contacts
Her ideas came from closely observing:
what other women were wearing.
Her great charm with men also helped her career, giving her wealthy and influential contacts in high society.
Her lovers included:
Igor Stravinsky (the composer).
the Prince of Wales (later the uncrowned British king, Edward VIII).
She also opened her first fashion store in Paris in 1914 with the help of Arthur "Boy" Capel (pictured together right), one of the few men she truly loved.
Their relationship gave her self-confidence, business skills and knowledge of her strengths.
She buried her sorrow in work after his death in a car crash in 1919.
4. Perseverance, passion and purpose
She overcame many difficulties, particularly:
Boy Capel's death (see point 3).
her terrible childhood that made her determined to succeed and make money.
After her mother's death her father abandoned her, aged 12, at a convent orphanage, where the nuns were harsh.
But they did give her the idea of simple dress design, and she was passionate about making women's fashion more beautiful and practical.
5. Health and self-discipline
Despite her many friends, she spent most evenings at home, eating healthy food (including porridge for breakfast) and drinking minimal alcohol.
She was normally in bed before 10 p.m., rising about 7 a.m.

She was incredibly tough and focused on her work.
The writer, Jean Cocteau (pictured right in 1923) said she had the "head of a black swan", and the "heart of a black bull".
6. Teamwork and tension
She was helped by her employees including:
a) Russian aristocratic ladies
Exiles from the Russian Revolution sewed for her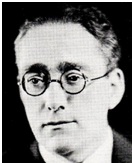 b) saleswomen
She sent out other ladies to promote her clothes at the best restaurants and parties.
Her explosive relationship with another fashion designer, Paul Iribe (pictured right), produced the creative tension and argument that created many great fashion ideas, particularly in jewellery.
She was also spurred on by her intense competitiveness and ambition to beat the world's other top designers, particularly:
Elsa Schiaparelli (pictured right) - a rival in the 1930's.
Christian Dior (pictured right below) - a competitor after 1945.

7. Luck
She was in the right place at the right time. The rich had lots of money to spend on her clothes even during the First World War.
War profiteers (like food and weapons producers), and people fleeing from Paris, flocked to her store in Deauville.
Key quotes on fashion and buyer behaviour
Fashion changes but style endures.
Fashion is made to become unfashionable.
Key quote on innovation
In order to be irreplaceable one must always be different.
Key quotes on work
I've never done anything by halves.
I have always done everything with passion.
Key quote on stress and pain
How many cares one loses when one decides not to be something but to be someone.
Key quote on women
Look for the woman in the dress. If there is no woman, there is no dress.
Key quote on age
Nature gives you the face you have at twenty; it is up to you to merit the face you have at fifty