Poetry - War
Wilfred Owen (1893-1918), Dulce Et Decorum Est (1917)

The English poet (pictured right) and victim of the First World War attacks its pointless butchery.The last two lines are:
The old Lie: Dulce et decorum est
Pro patria mori.
(this Latin phrase means "It is sweet and fitting to die for one's country").
Wilfred Owen, Anthem For Doomed Youth (1917)
In this poem Owen's opening lines are:
What passing-bells for these who die as cattle?
Only the monstrous anger of the guns.
Wilfred Owen, Insensibility (1917)

Owen's horror at the war is also reflected in this poem.
Whatever mourns when many leave these shores;
Whatever shares
The eternal reciprocity of tears.
(last three lines)
Rudyard Kipling (1865-1936), My Boy Jack (1915)

Written by Kipling (pictured right) after his son Jack went missing in battle, he describes the excruciating wait for news about him.
"Have you news of my boy Jack?"
Not this tide.
"When d'you think that he'll come back?"
Not with this wind blowing, and this tide.
(first verse)
Kipling was particularly guilty, because he had persuaded the 18-year-old boy to join up despite his acute short-sightedness. He later wrote:
If any question why we died
Tell them, because our fathers lied.
John McCrae (1872-1918), In Flanders Fields (1915)

The Canadian poet and World War One soldier (pictured right) says remember and honour the people who die in battle
If ye break faith with us who die
We shall not sleep, though poppies grow
In Flanders fields.
(last three lines).
Rupert Brooke, The Soldier (1914)
Brooke (pictured right) was killed in 1915 only months after he wrote this famous World War One poem.
If I should die, think only this of me:
That there's some corner of a foreign field
That is forever England.
(first three lines)
Laurence Binyon, For the Fallen (1914)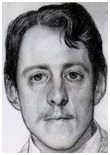 The English poet (pictured right) says we must remember the dead of war
These lines are recited on Britain's Remembrance Day on November 11:
They shall grow not old, as we that are left grow old:
Age shall not weary them, nor the years condemn.
At the going down of the sun and in the morning
We will remember them.
Siegfried Sassoon (1886-1967), The Dug-Out (1918)

The English World War one soldier and poet (pictured right) says about the dead:
You are too young to fall asleep for ever:
And when you sleep you remind me of the dead.
Siegfried Sassoon, Suicide in the Trenches (1918)
In this poem Sassoon describes the misery of the trenches:
I knew a simple soldier boy
Who grinned at life in empty joy,
Slept soundly through the lonesome dark,
And whistled early with the lark.
In winter trenches, cowed and glum,
With crumps [sounds of shells] and lice and lack of rum,
He put a bullet through his brain.
No one spoke of him again.
You smug-faced crowds with kindling eye
Who cheer when soldier lads march by,
Sneak home and pray you'll never know
The hell where youth and laughter go.
(complete poem)

W. B. Yeats (1856-1939), An Irish Airman Foresees his Death
The Irish poet (pictured right) describes a First World War pilot from Kiltartan in Ireland:
fighting for people he doesn't love (the British).
fighting against people (the Germans) he doesn't hate (lines 3 and 4).
The pilot's past and future are immaterial ("a waste of breath") because he constantly faces death (last 3 lines):
I know that I shall meet my fate
Somewhere among the clouds above;
Those that I fight I do not hate,
Those that I guard I do not love;
My country is Kiltartan Cross,
My countrymen Kiltartan's poor,
No likely end could bring them loss
Or leave them happier than before.
Nor law, nor duty bade me fight,
Nor public men, nor cheering crowds,
A lonely impulse of delight
Drove to this tumult in the clouds;
I balanced all, brought all to mind,
The years to come seemed waste of breath,
A waste of breath the years behind
In balance with this life, this death.
(complete poem)

W. B. Yeats Easter 1916
In this poem Yeats describes the British defeat of the Irish republican uprising with its green flag that bolstered the nationalist movement with its "terrible (i.e. violent) beauty" (last line):
Now and in time to be,
Wherever green is worn,
Are changed, changed utterly:
A terrible beauty is born.
(last four lines)
A.E. Housman (1859-1936), Here Dead Lie We (1914)

The English poet (pictured right) pays homage to the war dead:
Here dead we lie
Because we did not choose
To live and shame the land
From which we sprung.
Life, to be sure,
Is nothing much to lose,
But young men think it is,
And we were young.