Elvis Presley - Success and Creativity
Elvis Presley (1935-1977)
American pop star and the world's most popular solo singer ever (pictured right in 1954).
Known as the 'King of Rock 'n' Roll' .
Died aged 42, at his Memphis mansion, Graceland, because of drugs and obesity, caused by loneliness and depression after divorcing his wife, Priscilla, in 1973 (pictured below at their 1967 wedding).
Why was he successful and creative?
1. Rags to riches
He was brought up in poverty in Tupelo, Mississippi, particularly after his father was:
convicted of forgery in 1938 and
sent to prison for three years.
He became a star after appearing at the Grand Ole Opry, the biggest country music venue in Nashville, despite one music executive telling him:
"You ain't going nowhere, son".
Helped by a loving and encouraging mother, Gladys, he overcame such criticism and disappointment with great determination.
Elvis is pictured right with his parents in 1958.
2. Talent
He had a wonderful voice with a wide range, enabling him to sing brilliantly all types of popular music like rock 'n' roll, country, blues, gospel and ballads.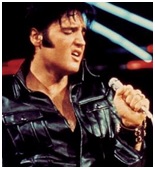 3. Charisma and sex appeal
His suggestive body movements worried the Church, but wildly excited his young fans.
Elvis (pictured right in his 1968 Comeback Special) had star quality, and this came through in his breathtaking live performances.
4. Hard work
He gave 1,145 concert performances in eight years between 1969 and 1977!
5. Support

Elvis was greatly helped in his career by his manager, "Colonel" Tom Parker (pictured right), who negotiated a contract with RCA Records.
His first RCA single, Heartbreak Hotel, became a million seller and other huge hits like Hound Dog, Blue Suede Shoes and Love Me Tender soon followed.
But Parker's role has been criticized for:
preventing him from developing his acting career.
His extremely popular movies (27 in the 1960s!) were generally undemanding and largely showcases for his songs.
Parker forced him to turn down the leading role in the film version of West Side Story.
6. Learning

Elvis particularly learned from African American rhythm and blues music and singers like:
Fats Domino (pictured right above).
Little Richard (pictured right).
His hit, Hound Dog, was first made popular by a black woman, Big Mama Thornton.
This led to resentment from some blacks that he stole their music, and Presley became a symbol of white oppression.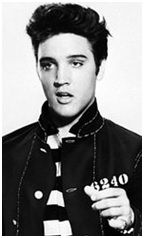 7. Revolutionary
He was the first big star of rock and roll and revolutionized pop music.
"Before Elvis, there was nothing",John Lennon said, acknowledging how Presley had inspired the Beatles (pictured right is Elvis in 1957, the year Lennon met Paul McCartney).
8. Luck
A post-World War Two economic boom in America gave money for the first time to teenagers, who loved his music and naughty rebellious image.
Key quote on careers and ambition
Ambition is a dream with a V8 engine.
Key quote on learning and wisdom
Truth is like the sun. You can shut it out for a time, but it ain't goin' away.
Key quote on selling
Talent is bein' able to sell what you're feeling.
Key quote on health
Just because you look good don't mean you feel good.