Muhammad Ali and Success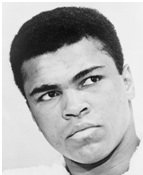 Muhammad Ali (1942- )
American boxer (pictured right) voted Sportsman of the Twentieth Century by America's Sports Illustrated magazine.
Born Cassius Clay, he changed his name after converting to Islam and became an inspiration for blacks everywhere, particularly in America.
Why is he a hero and so successful?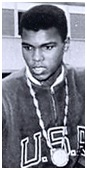 1. Talent
He was the greatest boxer ever, winning:
a record three heavyweight world titles.
an Olympic gold medal in Rome in 1960 (pictured right).
His genius came from his speed around the ring, unique in a heavyweight.
"Float like a butterfly, sting like a bee" was how he famously described his style.
2. Revolutionary learner
He revolutionized boxing with his:
unorthodox style.
ability to surprise his opponents.
For example, in their world title fight in 1974 (pictured right), he defeated George Foreman with the unusual tactic of absorbing lots of punches on the ropes (taught to him by the boxer, Archie Moore) .
Ali always learned from:
other people's knowledge.
3. Charisma and eloquence
Unusually for a boxer, he was
His quips:
entertained the public.
often demoralized his opponents before they even got into the ring.
"He's so ugly that when he cries the tears run down the back of his head", he said about Sonny Liston, just before he beat him in 1964 to win the world title for the first time (pictured right).
4. Principles
He had no illusions about the glamour of boxing.
"I beat people up", he said.
But his belief in God and love is more important to him
So Ali: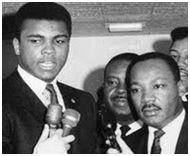 a) hates war
He refused to join the army in the Vietnam War (pictured right with Martin Luther King), leading to:
the loss of his title in 1967
his ban from boxing until 1970.
He spoke out against the wars in Vietnam and Iraq.
b) loves others and God
He is kind, tolerant and a devout Muslim, reading the Qur'an daily.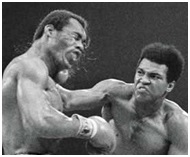 5. Courage
He has always shown great:
a) moral courage
(standing up for his principles - see point 4)
b) physical bravery
Particularly against:
Tragically he didn't retire until 1981 and got Parkinson's syndrome from too many blows to the head, slurring his speech and stiffening his movement.
6. Determination and purpose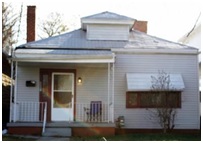 Ali:
came from a poor background in Louisville, Kentucky (his childhood home is pictured right) .
had to fight the indignity of racism, like all other African Americans.
was a supporter of the black militant Islamic group, the Nation of Islam until 1975 (but now preaches love and reconciliation).

7. Self-confidence
He had huge confidence in his ability.
"I am the greatest!", he said,
But later in his career he admitted he only said this to sell tickets. He believes that God is the greatest!
8. Discipline and coaching
He hated training but his dream of becoming "the greatest" kept him going.
"The will must be stronger than the skill", he said, because he knew that disciplined training won him fights.
He was also helped by probably the world's greatest ever trainer and coach, Angelo Dundee (pictured right), who
motivated him by making him feel that things were done Ali's way.
Key quotes on success
He who is not courageous enough to take risks will accomplish nothing in life.
I am the greatest!
Float like a butterfly, sting like a bee.
Key quotes on objectives and vision
Champions are made from something they have deep inside them – a desire, a dream, a vision.
I'm not fighting for diamonds or Rolls Royces or mansions, but to help mankind.
Key quote on motivation
The will must be stronger than the skill.
Key quote on God and religion
What we do for God is all that will last.
Key quotes on love
The devil is in the mind and heart, not the skin.
Life is so short; we get old so fast. It doesn't make sense to waste time on hating.
Key quote on assertiveness
I don't have to be what you want me to be; I'm free to be what I want.