Jane Eyre - Women, Ethics and Success
Jane Eyre (1847)
Written by the English novelist, Charlotte Brontë (1816-55), pictured right.
Fun facts
Her two sisters, Emily (author of Wuthering Heights) and Anne, were also famous writers (pictured right below - Anne on left and Emily in middle) .
Their books feature the Yorkshire Moors where they lived.
Charlotte wrote under the pseudonym of Currer Bell until 1848.
Jane Eyre's horrible boarding school, Lowood, was based on the school Charlotte went to.
What about film versions?
Probably the most famous is the 1943 film starring Orson Welles as Rochester and Joan Fontaine as Jane (the poster is pictured below).
Lots of other films have been made (including 1934, 1970, 1996 and 2011).
The BBC has made several adaptations, the latest in 2006, starring Toby Stephens as Rochester and Ruth Wilson as Jane.
Key characters
Jane Eyre, the story's narrator and heroine
Rochester, rich aristocrat
St. John Rivers, Church of England minister
The story
Orphaned Jane Eyre lives with her wealthy but cruel aunt, Mrs Reed, and her three bullying daughters. But strengthened by her friendship with Bessie, the nursemaid, she repeatedly stands up for herself against them.
She is sent to Lowood, a boarding school, owned by the cruel Mr Brocklehurst. She befriends:
another pupil, Helen Burns.
the kind teacher, Miss Temple.
The appalling conditions are greatly improved after Helen's death from typhus and Brocklehurst's dismissal for embezzling school funds.
Jane stays on to become an assistant teacher but becomes a governess at Thornfield Hall, when Miss Temple leaves to marry. Her pupil is a French girl, Adèle, the ward of her boss, Edward Rochester.
She likes the job and Rochester is attracted by her wit and intelligence. She saves him from a fire and a mysterious lady in the house, Grace Poole, is suspected of starting it.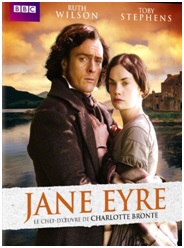 She misses Rochester (pictured right in the 2006 BBC adaptation) when she visits a dying Mrs Reed, who reveals a three-year-old letter from Jane's uncle, John, about his desire to adopt her.
Rochester tries to make her jealous by pretending to marry the beautiful and wealthy, Blanche Ingram.
He finally proposes and Jane accepts. But, during their wedding, Richard Mason reveals that Rochester is already married to his sister, Bertha Mason. She is the mad woman locked up in Rochester's attic, helped by her servant, Grace Poole.
Rochester pleads with Jane to go abroad as his mistress, but she flees, wandering destitute and hungry for days.
She is finally helped by a clergyman, St. John Rivers, and his sisters, Diana and Mary. He gives her a job as the village schoolmistress under her new name of Jane Elliott.
But the discovery of her real name leads him to find out she is their cousin and has inherited a fortune from her uncle.
She shares her fortune equally with the Rivers but rejects a marriage proposal from the unloving St John who wants her to accompany him on his missionary work in India.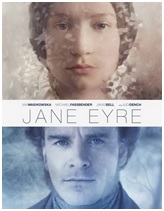 Her newly found inheritance and social status give her the confidence to return to Rochester. She discovers his house has been burned down by his wife , who is killed.
Rochester loses his sight and right hand, trying to save her.
But Jane still accepts his proposal. Rochester recovers the sight of one eye to see their firstborn son. They live very happily (pictured right together in the 2011 film) and the novel ends with St John Rivers' death.
Lessons for women, ethics and success
1. Women are the equal of men
Jane (Charlotte Gainsbourg, pictured right, in the 1996 film):
thinks she is at least the equal of any man.
wants to take control of her life without losing her independence or identity.
"I am better than you - let me go!", she tells Rochester after finding out that he's married.
So she:
rejects the domineering St John Rivers.
only marries Rochester on equal terms after her inheritance and the death of his wife.
2. Relationships are happiest as equal partnerships
Jane and Rochester (pictured right in the 1943 film) are happy because they are friends with
equal status and intelligence.
She isn't afraid to criticize his weaknesses (like selfish chauvinism), so that he can improve himself.
3. Looks aren't everything
Unlike Blanche Ingram, Jane isn't pretty, but Rochester is seduced by her
She loves him just as much after he is disabled and disfigured by the fire.
4. Money is marvellous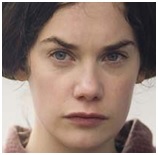 Jane's inheritance gives her:
the confidence to marry Rochester.
the pleasure of sharing it with the Rivers family to repay their kindness.
Jane (Ruth Wilson) is pictured right in the 2006 BBC adaptation.
5. Duty must accompany desire
Jane can only marry Rochester, if she accepts the responsibility of being his nursemaid.
But her rejection of St John Rivers shows her belief that love is always more important than duty.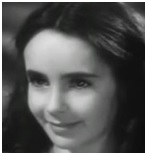 6. Love people, but fight for justice
Helen Burns (a young Elizabeth Taylor, pictured right, in the 1934 film) is kind and forgiving, even towards a bullying teacher.
Jane:
strongly opposes cruelty and injustice.
empathizes with people worse off than her.
rejects the social convention of male superiority.
"Conventionality is not morality", as Charlotte Brontë wrote in the book's preface.
7. Hate hypocrisy
Mr Brocklehurst and Mrs Reed preach Christianity but don't practise its belief in love.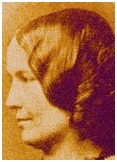 8. Religion should be a comfort, not a burden
Charlotte Brontë (pictured right in 1854) believed that the aim of religion should be
"offering comfort, not fiercely enforcing a duty".
This is the opposite of St John Rivers' religion which replaced love with
9. Be true to yourself
Jane doesn't live with Rochester as his lover, because this goes against her religious principles.
She has self-respect, because she fights for her
independence.
"I care for myself", she tells Rochester.
Jane (Susannah York) and Rochester (George C. Scott) are pictured right in the 1970 film.
Key quote on religion
"Conventionality is not morality. Self-righteousness is not religion", Charlotte Brontë (in the preface)
Key quote on marriage
Reader, I married him, Jane
Key quote on decision making
Human beings ... must have action; and they will make it, if they cannot find it, Jane
Key quote on education
Prejudices, it is well known, are most difficult to eradicate from the heart whose soul has never been loosened or fertilized by education, Jane
Key quotes on love
He made me love him without looking at me, Jane (on Rochester).
If people were always kind and obedient to those who are cruel and unjust, the wicked people ... would never feel afraid, and so they would never alter, Jane
It is not violence that best overcomes hate, Helen Burns
Key quotes on relationships
Life appears to be too short to be spent in pursuing animosity, or registering wrongs, Helen Burns
Key quote on peace of mind
"A memory without blot or contamination must be an exquisite treasure", Rochester
Key quote on women
Women feel just as men feel; they need exercise for their faculties and a field for their efforts.
Key quote on motivation
Most things free-born will submit to anything for a salary, Rochester.
Two literature websites to recommend
1. sparknotes.com
2. litcharts.com
A big thank you to...
The BBC for the pictures.