Sergey Brin and Larry Page Leadership
Sergey Brin (1973- ) and Larry Page (1973- )
Co- founders of Google, the hugely successful Internet company.
Page (pictured right on left) is chief executive and Brin (pictured on right) runs Google X, responsible for new products.
Why have they led Google to success?
1. Vision
The idea of Google's search engine came to Page in a dream.
He and Brin then put that dream into reality.
Their aim, says Page, was to organize the world's information and to make it universally accessible and useful.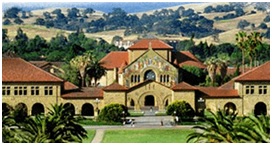 2. Brains
They dropped out from PhD's at Stanford University (pictured right), California, to set up Google in 1998.
3. Bold and worthwhile aims
They constantly challenge themselves and others to be the best and find products that delight customers.
So Page asks difficult questions to stretch people's minds and find the best solution.
4. Teamwork
Their strengths complement each other well:
Page (strategy and recruitment).
Brin (technological expertise).
They have been well supported with great employees like Eric Schmidt (pictured right), Google's executive chairman and Page's predecessor as chief executive.
5. Creativity with control
Google has delighted customers with new products like Gmail, Google Earth and Google Maps.
Page and Brin have encouraged this creativity by Google's policy of:
a) sharing information and ideas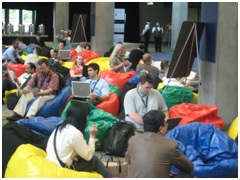 b) a relaxed work environment
(with slides, scooters, cafés, etc.)
Pictured right is people working on bean bags at Googleplex, Google's head office in California
c) constant questioning
(of the status quo and current knowledge).
d) continuous improvement of products
(new and old).
e) creative freedom
(20% of employees' time can be spent on their own research projects).
But this creativity is mixed with management controls to make sure that employee creativity is directed towards great products.
6. Fast decision making
To increase the speed and clarity of decision making, Page:
encourages concise communications
For example, staff give him 60 word updates on new product development projects.
Key quote on business ethics
We have a mantra: don't be evil, which is to do the best things we know how for our users, for our customers, for everyone (Page).
Key quotes on success
I want to be looked back on as being very innovative, very trusted and ethical and ultimately making a big difference in the world (Brin).
The amazing thing is that we're part of people's daily lives, like brushing their teeth (Page).
Key quote on human resource management
We just want to have great people working for us (Brin).
Key quote on leadership
My job as a leader is to make sure everybody in the company has great opportunities, and that they feel they're having a meaningful impact and are contributing to the good of society (Page).