Art - War
Pablo Picasso, Guernica (1937)

An iconic anti-war painting inspired by the bombing of the Spanish town of Guernica during the Spanish Civil War
Particularly poignant is the grieving mother with her dead baby (on the extreme left underneath the bull).

John Singer Sargent, Gassed (1919)
British soldiers blinded by mustard gas in World War One.
Goya, The Third of May (1808)

Spanish resistance to Napoleon's army in 1808
This inspired another great anti-war painting, Picasso's Guernica (see above).

William Orpen, Dead Germans in a Trench (1918)

The death and destruction of the German trenches in World War One contrast with the beauty and calm of the blue sky.
Otto Dix, The Self-Portrait as a Soldier (1914)
The German painter is turned into an inhumane, remorseless killer by the First World War.
John Steuart Curry, Parade to War (1938)
The skeletal faces of the American soldiers leaving for the First World War show that their triumphant parade will end in death.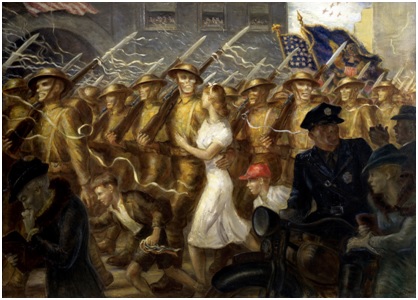 Dmitri Shmarinov, Going Home (c 1942)
A Russian mother and her children returning to their home destroyed by the Nazis.

Henry Moore, The Liverpool Street Extension (1941)

One of a series of paintings by Moore of Londoners sheltering from the Blitz in the Underground (or subway)
People look like corpses which reflects how close they were to death.

(Reproduced by kind permission of the Henry Moore Foundation)
Timothy O'Sullivan, A Harvest of Death (1863)
A famous photograph showing the deadly aftermath of the Battle of Gettysburg.