Trade (or labour) unions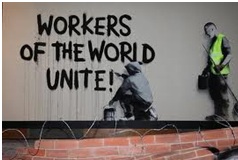 A trade union is...
An organization representing the interests of its members who are employees.
Why has the influence of trade unions fallen since the 1970's?
1. Employee attitudes
(they think they can do better without unions).
2. The decline of highly unionized industries
(like coal, steel and shipbuilding).
3. The rise of industries where unions aren't so strong
(like computers and service industries like retailing and leisure).
4. Anti-union laws
For example, those introduced by Margaret Thatcher (pictured right) in Britain in the 1980's.
But Britain's public sector (owned by the government like education and the NHS, the British health care service) still has a very high proportion of union members.
What a trade union does
1. Represent its members (a voice for employees)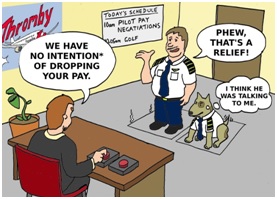 a) negotiates with management
(over pay and working conditions)
This negotiation is called collective bargaining.
b) consults with management
(on other issues relating to work)
This is called joint consultation.
c) helps members with their problems
(e.g. redundancy, unfair dismissal, injury compensation, etc).
2. Social purpose
Unions have fought to improve the lives of all working people, particularly in the early years in the late nineteenth century and early twentieth century (when there was no welfare state in Britain).
Unions helped to remove exploitation of employees like: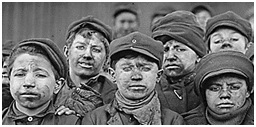 child labour (pictured right are American child coal miners in c1912).
horrible working conditions.
3. Helps management
Unions communicate the views of employees to management and gain their co-operation to achieve the organization's objectives like customer satisfaction.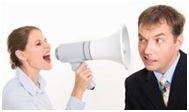 But for this to happen, two things must occur:
a) managers must listen to what unions say and act upon their useful suggestions.
b) unions must be prepared to continually accept change and new and better ways of satisfying customers.
4. Influences government policy
This activity has become much less important in Britain since Margaret Thatcher's anti-union government in the 1980's.
Union power in Britain was at its peak in the 1970's, when the unions worked very closely with the Labour (socialist) governments, particularly over incomes policies (when unions agreed to limit the pay increases of their members to reduce inflation).
Films about unions
The Grapes of Wrath (1940)
Based on John Steinbeck's book about migrant workers struggle for survival and union recognition in 1930's California.
How Green Is My Valley (1942)
(about a Welsh mining village).
On the Waterfront (1954)
Stars Marlon Brando, who stands up to the Mafia union thugs in the New York docks.
I'm All Right Jack (1959)
A British comedy in which the Communist union leader, Fred Kite (Peter Sellers) is in continual conflict with incompetent posh managers.
Billy Elliot (2000)
The story of a miner's son, who becomes a great ballet dancer, is set during the British 1984-5 miners' strike.
Made in Dagenham (2010)
How women workers at Ford's Dagenham factory in England went on strike for equal pay with men.
Key quotes explained
"Workers of the world unite!"
- Karl Marx (pictured right) and Friedrich Engels (pictured right below)
This is the last line of the Communist Manifesto.
Unions are strongest when they are united in preventing exploitation by employers and have the mental strength to win.

"The most potent power in the hands of the oppressor is in the mind of the oppressed", said the South African anti-apartheid martyr, Steve Biko.

"Trade unions have always had two faces, sword of justice and vested interest"
- Allan Flanders , English union expert (pictured right)
These are the two main aims of unions:
to serve the interests of its members (vested interest).
to improve the welfare of all working people (sword of justice).
Vested interest is more important, because a union would not exist without its members.

"We aim to be part of the answer, not part of the problem"
- John Monks (British 1990's union boss, pictured right)
If management is prepared to share power and decision making with them, unions can help to gain the commitment of employees towards achieving the organization's objectives like customer satisfaction.
They must destroy their reputation for encouraging laziness and inefficiency.
"I think union rules are a little strict. I used to sing in the bath tub at home, now I've got to have another guy in there with me as a stand-by", joked the American comedian, Bob Hope.
"We need leaders not bosses"
- Vic Feather (British 1960's union boss, pictured right)
Employees and their unions don't need people telling them what to do all the time but leaders, who will inspire them to do great things.
So managers must "exercise power by sharing it", as the Allan Flanders (see above) said.
Managers will be more powerful, if they involve employees in decision making and treat them well.

"A man willing to work, and unable to find work, is perhaps the saddest sight", Thomas Carlyle, Scottish writer (pictured right)
Unemployment is crippling, because "the best prize that life offers is the chance to work hard at work worth doing", Theodore Roosevelt, the American president, said.
Best books

Allan Flanders (pictured right) Management and Unions (1970)
Two conflicting systems of employee relations must be reconciled:
• Formal (with official union negotiation of industry-wide agreements).
• Informal (the unofficial system within the workplace with its union representatives like shop stewards).
In 1960's Britain, unions got out of touch with the workplace leading to a lot of unofficial strikes.
Jeffrey Pfeffer (pictured right) , Competitive Advantage Through People (1994)
A lot of managers are unnecessarily hostile towards unions, because they can increase employee motivation by:
Being an effective voice for employees.
Helping the implementation of policies that treat people well.