Poetry - Ethics
W. B. Yeats (1856-1939), The Choice (1933)
The Irish poet (pictured right) says that change involves a choice between perfection in work or life.
But work requires moral compromises (the refusal of "a heavenly mansion"):
The intellect of man is forced to choose
Perfection of the life, or of the work,
And if it take the second must refuse
A heavenly mansion, raging in the dark.
(first four lines).
Henry van Dyke (1852-1933), Four Things (1920)

This American poet (pictured right) says there are four things everyone must do:
To think without confusion clearly;
To love his fellow man sincerely;
To act from honest motives purely;
To trust in God and Heaven securely.
(last four lines)
William Blake (1757-1827), The Divine Image (1789)
The English poet (pictured right) says there are four ideal human characteristics or "virtues of delight" (mercy, pity, peace and love) that everyone must practise irrespective of their religion or culture:
For Mercy has a human heart
Pity, a human face:
And Love, the human form divine,
And Peace, the human dress.
William Blake, The Human Abstract (1794)
In this poem Blake explains what the virtues (described above) require:
other people's poverty (for pity) - see lines 1 and 2 below
other people's unhappiness (for mercy) - see lines 3 and 4.
mutual fear (for peace) - see line 5
self-sacrifice (for love) - "selfish loves" cause cruelty - see lines 6 to 8
Pity would be no more,
If we did not make somebody Poor:
And Mercy no more could be,
If all were as happy as we;
And mutual fear brings peace;
Till the selfish loves increase.
Then Cruelty knits a snare,
And spreads his baits with care.
(first two verses).
George Eliot (1819-80), You May Count That Day

More famous for books like Middlemarch, Eliot (really a lady, Mary Anne Evans, pictured right) also wrote some great poems.
In this one she says that a day is well spent, if it contains:
One self-denying deed, one word
That eased the heart of him who heard,
One glance most kind
That fell like sunshine where it went.
(lines 4-7)
Emily Dickinson (1830-86), To fight aloud is very brave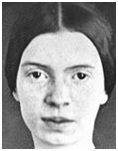 The American poet (pictured right) says the bravest people deal with their problems (the "cavalry of woe") by challenging and changing their views and attitudes:
To fight aloud is very brave -
But gallanter, I know,
Who charge within the bosom,
The Cavalry of Woe.
(first verse)
William Shakespeare (1564-1616), Sonnet 129

Shakespeare (pictured right) says that lust leads to hell and spiritual damage (see first line):
The expense of spirit in a waste of shame
Is lust in action: and till action, lust
Is perjur'd, murderous, bloody, full of blame,
Savage, extreme, rude, cruel, not to trust.
(first four lines)
John Milton (1608-74), Paradise Lost (1667)
The English poet (pictured right) describes hypocrisy as "the only evil that walks invisible, except to God alone".
In another poem, Camus, A Mask (1634), Milton describes how immorality destroys the soul:
But he that hides a dark soul and foul thoughts
Benighted walks under the midday sun;
Himself is his own dungeon.
John Bunyan (1628-88), Who Would True Valour See (1684)

Valiant-for-Truth's song from Bunyan's (pictured right) The Pilgrim's Progress emphasizes valour (or physical and moral courage) which is why Winston Churchill chose this hymn for his funeral:
Who would true valour see
Let him come hither;
One here will constant be,
Come Wind, come weather.
There's no discouragement,
Shall make him once relent,
His first avow'd intent,
To be a pilgrim.
(first verse)

Kenneth Patchen (1911-72), Nice Day for a Lynching

The American poet (pictured right) shows the good and bad side of human nature in the lynching of a black man by hypocritical racists ( "honourable men who laugh as he chokes", line 5).
You are condemned by accepting it but saved by opposing it:

But I know that one of my hands
Is black, and one white. I know that
One part of me is being strangled,
While another part horribly laughs.
Until it changes,
I shall be forever killing; and be killed.
(last 6 lines)

Ogden Nash (1902-71), Kind of an Ode to Duty (1935)
The American poet (pictured right) describes the difficulty of duty, when it is "so ubiquitous" and I am "so iniquitous":

Thou so ubiquitous,
And I so iniquitous.
I seem to be the one person in the world thou art perpetually preaching at who or to who;
Whatever looks like fun, there art thou standing between me and it, calling yoo-hoo.
O Duty, Duty!
(first lines of final verse)
Robert Service (1874-1958), Regret (1945)

The Canadian poet (pictured right) says that goodness (i.e.kindness) will give you peace of mind:
Let us be helpful ever
to those who are in need,
And each new day endeavour
To do some gentle deed;
For faults beyond our grieving,
What kindliness atone;
On earth by love achieving
A Heaven of our own.
(last verse)
Bob Dylan (1941- ), It's Alright, Ma (I'm Only Bleeding), 1965

The American singer's (pictured right in 1963) song questions the ethics of advertising:
Advertising signs that con you
Into thinking you're the one
That can do what's never been done
That can win what's never been won
Meantime life outside goes on
All around you.
(verse 9)
T.S. Eliot (1888-1965) , East Coker (1940)

The American-born British poet (pictured right) emphazises humility:
The only wisdom we can hope to acquire
Is the wisdom of humility: humility is endless.