Love Story - Love and Ethics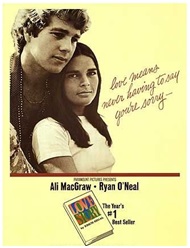 Love Story (1970)
Famous for...
Its line "Love means never having to say you're sorry".
Being shown to new students every year at Harvard University, where the film is set. Jennifer (played by Ali McGraw) goes to Radcliffe College, founded in 1879 by Ann Radcliffe for women.
Making stars of Ryan O'Neal and Ali MacGraw.
Its love theme which won an Oscar and (with added lyrics) became a big 1971 hit for the American Andy Williams.

Based on...
The American Erich Segal's (pictured right in 1970) novel, Love Story.
Director
Arthur Hiller.
Oscars
One for best music.
Key Characters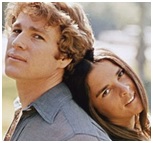 Oliver Barrett (Ryan O'Neal), Harvard law student .
Jennifer (Jenny) Cavalleri (Ali MacGraw), his sweetheart and wife (pictured right with Oliver).
Oliver Barrett III (Ray Milland), his rich father.
Phil Cavalleri (John Marley), Jennifer's father.
The story
Oliver Barrett tells the story of his tragic love affair ...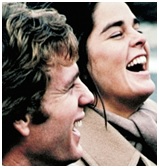 He is a law student at Harvard University, USA, where his super rich family are well respected and important benefactors.
Oliver:
is a hot-tempered rebel (who doesn't get on with his parents).
meets a poor working class Radcliffe College student, Jennifer (Jenny) Cavalleri.
They fall in love (pictured right above).
She sees him playing ice hockey for Harvard. His father, Oliver Barrett III, then:
watches a big game against Cornell University.
is disappointed when Oliver's fighting leads to his sending off and Harvard's defeat.
Oliver then takes Jenny to see his parents in their big mansion, but they think she isn't good enough for him. When Oliver refuses to postpone his marriage to Jenny, his father:
Their marriage (pictured right above) occurs after they graduate, when Oliver meets Jenny's loving father, Phil (pictured right below).

Giving up her chance of a music scholarship in Paris, Jenny gets a teaching job to support Oliver, while he is studying at Harvard Law School. Oliver erupts when Jenny tells his father on the phone that Oliver still loves him and would like to see him.
She storms out of their apartment. He eventually finds her freezing on the doorstep and tries to say sorry, prompting her classic reply:
"Love is never having to say you're sorry".
After Oliver's graduation (where he wins a prize), they move to New York, where Oliver gets a good lawyer's job. They decide to start a family.
After they fail to conceive, they go for medical tests. The doctor tells Oliver that Jenny
has cancer (probably leukaemia).
But he must not tell her and try to lead a normal life.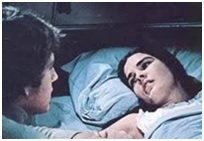 Soon she confronts the doctor and finds out about her illness the day Oliver arrives home with tickets to Paris. But she wants to stay at home, knowing she has little time left.
Oliver:
goes to his father for money to pay for her expensive cancer treatment in hospital.
tells him it is to pay for an abortion after an extra-marital affair.
His father doesn't believe him but he still writes the cheque.
In her hospital bed, Jenny (pictured right above) tells Oliver to:
hold her tightly (just before she dies, aged only 25).
His father then arrives at the hospital, having rushed to New York as soon as he heard about Jenny.
He apologizes to Oliver (pictured right), who replies with Jenny's words:
"Love is never having to say you're sorry".
Lessons for love and ethics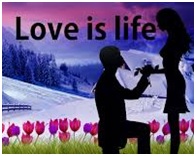 1. Love conquers death
Jenny's death is tragic, but her love remains in Oliver's heart. He is devastated, but he can console himself with how lucky he was to
enjoy such great times together.
2. "Love is never having to say you're sorry"
There is no need to say sorry, because the person you love knows that you meant no harm.
3. Empathy and forgiveness are important
The relationship between Oliver and his father broke down, because they both failed to understand each other's point of view.
It took Jenny's death to forgive and forget their petty differences.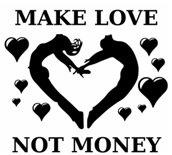 Oliver's distant relationship with his father contrasts with Jenny's close friendship with hers (who understands their preference for a non-religious wedding, despite his dead wife having been a devout Catholic).
4. Money can't buy you love
Oliver's father is rich, but can't get on with Oliver.
Oliver's well paid job can do nothing to compensate for Jenny's death. He would gladly give up all his money to have her back.
5. Laughter helps love

Oliver and Jenny both have a great sense of humour. When he says he's studying with her on the couch, she replies:
"Bullshit. You're looking at my legs".
6. Love is friendship
Oliver and Jenny are best friends because they have a lot in common including:
It doesn't matter that Oliver is super rich (a "preppie millionaire") and Jenny is a poor "social zero".
7. Accept the things you can't change and get on with your life
Jenny insists that Oliver must:
stop blaming himself for her death.
He must move on (for example, re-building his relationship with his father), however painful that might be.
Key quotes on love
Love is never having to say you're sorry, Jenny (also later said by Oliver).
What can you say about a twenty five-year-old girl who died? That she was beautiful and brilliant. That she loved Mozart and Bach, The Beatles and me?, Oliver (the film's opening lines).
Two film websites to recommend
1. filmsite.org (run by Tim Dirks).
2. aveleyman.com (run by Tony Sullivan)