On the Waterfront - Success, Ethics and Unions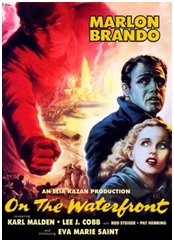 On the Waterfront (1954)
Famous for...
Its message of dock workers fighting for their dignity and livelihood against organized crime, corruption and intimidation.
Making Marlon Brando a star. He played a New York dock worker, Terry Malloy, and went on to make other great movies like his other Oscar winning role in The Godfather.
Brando's famous line: "I coulda had class! I coulda been a contender!", commenting on the failure of his life.
Based on...
A series of newspaper articles by Malcolm Johnson in the New York Sun
Set in...
The New York docks in the early 1950's

Director
Elia Kazan (pictured right), who betrayed some Hollywood colleagues during Senator Joe McCarthy's witch-hunt against communists in the early 1950's (known as McCarthyism).
In response to his critics, Kazan portrayed the film's hero (Terry Malloy) as an informer.
Oscars
Eight including: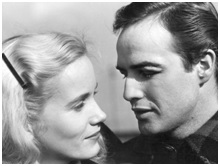 best actor (Marlon Brando).
best supporting actress (Eva Marie Saint who played Brando's sweetheart, pictured right together).
Key characters
Terry Malloy (Marlon Brando), dock worker and ex-boxer.
Edie Doyle (Eva Marie Saint), his girlfriend.
Father Barry (Karl Malden), a Roman Catholic priest.
Johnny Friendly (Lee J. Cobb), Terry's boss.
The story
New York's docks are ruled by: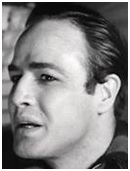 the gangster union boss, Johnny Friendly.
his violent entourage (including the uneducated and orphaned ex-boxer, Terry Malloy, in his late 20's).
On Johnny's instructions, Terry (pictured right) unwittingly sets a trap for his friend and fellow pigeon lover, Joey Doyle.
Terry guiltily witnesses his murder by two of Johnny's men for planning to testify before the Waterfront Crime Commission against the gangsters controlling the docks.
Doyle is pushed off the tenement rooftop (where he and Terry kept their pigeons), and a shocked crowd gathers around his body including:

Doyle's sister, Edie, a trainee teacher (pictured right).
the local parish priest, Father Barry.
In a rough waterfront bar, Johnny is given a pile of dollar bills, taken from dockworkers by his employee, Big Mac.
For his help with Joey's murder, Terry is given a $50 bill and a nice job by Johnny, whose deputy (Terry's brother, Charley) tells him to stay loyal to Johnny.
At daybreak on his rooftop, Terry tells a local 14-year-old boy, Tommy, how he envies his pigeons' freedom and contentment.
Terry meets Edie and takes her to Father Barry's church meeting of some dockworkers. They refuse his plea to testify against the gangsters because of their silent code, "D and D" (deaf and dumb).
Rocks shatter a church window, and the men are beaten up by men with clubs and baseball bats, except Terry who escapes with Edie. She angrily runs off, when he refuses to testify against Johnny, whom, she now knows, killed her brother, Joey.
Johnny then kills Kayo Dugan, for also planning to testify.

Watched by a dockside crowd including Terry, Edie, Johnny and his thugs, Father Barry courageously gives his "Sermon on the Docks" (pictured right).
Likening Joey and Kayo's killings to Jesus's crucifixion, he says that anyone who keeps quiet is selling their soul by putting money and a "cushy job" before "the love of man".
Terry supports him and punches one of Johnny's thugs for attempting to throw a banana at the priest. Troubled by his guilty conscience, Terry is comforted by Edie on his rooftop, and they kiss for the first time.
He confesses his involvement in Joey's murder to Father Barry and then to Edie (who runs away in disgust).
Charley tells his brother, Terry, in the back seat of a taxi not to testify (pictured right).
Terry:
gently turns away Charley's gun.
blames him for his failure in boxing by asking him to lose fights to win bets.
Heartbroken Terry says:
"I coulda had class! I coulda been a contender! I coulda been someone – instead of a bum, which is what I am!"
This touches Charley's heart, and he gives Terry his gun for protection, knowing that Johnny will kill him for not killing Terry.
Terry discovers that Charley has been viciously killed which, bolstered by Edie's love, persuades him to:
They fight and Terry is nearly killed by Johnny's thugs.
Inspired by his courage, his co-workers refuse to return to work without him. They laugh when Edie's father pushes Johnny into the sea.
Terry staggers back to work, followed by a crowd of dockers, signifying the end of Johnny's corrupt and violent leadership.
Lessons for life and work
1. Save your soul
For his peace and self-respect, Father Barry tells Terry he must:
listen to his conscience.
The guilt caused by Joey's murder makes Terry envious of his pigeons' freedom and contentment.
He learns that doing the right thing can be difficult. Conscience, he says, "can drive you nuts!"
2. A loser can become a winner
Terry is orphaned, uneducated and a failed boxer. He describes himself as a "bum" to his brother, Charley.
But his courageous victory against Johnny gives him:
the respect of his co-workers.
3. Love changes everything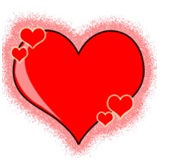 Terry loves Edie because of her:
faith in people's ability to care for each other.
"Isn't everybody a part of everybody else?", she asks him.
She also encourages him to abandon his selfish, dog eat dog philosophy of
"Do it to him before he does it to you".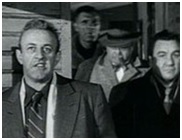 4. Character is charismatic
The workers choose Terry as their new leader, because his courage wins their respect.
In contrast Johnny (pictured right in front of his thugs) is destroyed by his
lust for power and money.
5. Stand up for your principles
Terry, Father Barry, Edie and Charley are great people, because they fight against the evil of Johnny and his vicious men.
6. Do something worthwhile
Father Barry's mission to defeat evil (explained in his "Sermon on the Docks") inspires Terry to do the same (helped by Edie's love and support).
7. Ethics involves difficult choices
Charley and Terry are torn between their:
desire to do what's right.
Charley sacrifices his life to save Terry.
8. Reflect before you act
Terry goes to his rooftop with his pigeons which:
a) is relaxing.
b) gives him some quiet time to think about what to do next.
Key quotes on success
I coulda had class! I coulda been a contender! I coulda been someone – instead of a bum, which is what I am!, Terry (to his brother, Charley).
It isn't just brains. It's how you use them, Edie (to Terry).
Key quote on corporate culture
Isn't everybody a part of everybody else?, Edie (to Terry)
Key quotes on love and ethics
You want to know what's wrong with our waterfront?... It's making love of a lousy buck - the cushy job - more important than the love of man!, Father Barry (in his Sermon on the Docks).
It's your conscience that's got to do the asking, Father Barry (to Terry).
Do it to him before he does it to you, Terry.
Two film websites to recommend
1. filmsite.org (run by Tim Dirks).
2. aveleyman.com (run by Tony Sullivan)