Rocky - Success and Ethics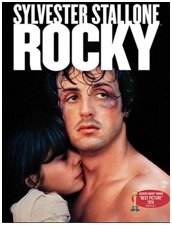 Rocky (1976)
Famous for...
Making Sylvester Stallone a star (as the boxer, Rocky Balboa). He was an unknown actor and writer with 32 rejected film scripts when he wrote the Rocky script in three days!
Its five sequels (the last, Rocky Balboa in 2006).
Based on...
The underdog boxer, Chuck Wepner, who nearly beat Muhammad Ali for the world heavyweight title in March 1975 (pictured right with Wepner on the left).
Set in...
Philadelphia, USA, 1975-6.

Director
John G. Avildsen (pictured right).
Oscars
Three including;
Key characters
Rocky Balboa (Sylvester Stallone), boxer
Adrian (Talia Shire), his girlfriend (pictured right).
Paulie Pennino (Burt Young), his best friend and Adrian's brother.
Mickey Goldmill (Burgess Meredith), his boxing trainer.
The story
30-year-old Rocky Balboa (pictured right) is a:
small-time, simple-minded boxer.
kind-hearted money collector for a loan shark in Philadelphia.
He is head-butted and booed in his low paid victory against Spider Rico on November 25, 1975. The next night he:
rescues an ungrateful 12-year-old from the streets.
takes her home.
On Thanksgiving evening (November 27), he starts dating Adrian, the shy sister of his best friend, the loud mouthed bully, Paulie (pictured right), who thinks she is a boring failure. Rocky's tender kiss leads to a passionate embrace.
The next day he is astounded when a boxing promoter asks him, if he will fight for the world heavyweight title on New Year's Day against the undefeated black, flamboyant, Muhammad Ali-like champion, Apollo Creed.
After his first opponent is injured, Creed chooses Rocky (pictured right below together) to fight because he: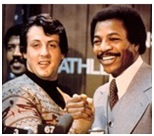 has a great nickname ("The Italian Stallion").
Because of the mismatch, a boxing journalist calls it "the biggest farce in fight history", but Rocky gets encouragement from Adrian.
For the big fight, Rocky employs as his trainer the 76-year-old ex-boxer, Mickey Goldmill (pictured right), who had recently:

given his locker key to someone else.
Mickey organizes his training, starting with a 4 a.m. run in the freezing cold.
Accompanied by the hit pop song, Gonna Fly Now (sung by Bill Conti), a famous scene shows Rocky training in the:
streets of Philadelphia .
He practises punching on frozen carcasses in the slaughterhouse where Paulie works (pictured right).
Over Christmas a drunk Paulie:
is angry that Rocky and Adrian think he wants money.
threatens them with a baseball bat.
throws them out of the house (after Adrian stands up for herself).
She decides to live with Rocky.
The night before the fight, Rocky nervously confesses to Adrian that:
his aim is to last the full 15 rounds (which nobody else has ever done before with Creed).
After Creed's flashy entry into the ring (dressed up as George Washington), he taunts Rocky that he will beat him in three rounds.
In fact, in the first round Rocky knocks him down with a tremendous left hook, but Creed recovers and breaks his nose.
With enormous guts and determination, Rocky lasts the full 15 rounds. Creed is declared the winner by a split decision (two judges for Creed and one for Rocky).
But Rocky triumphantly hugs Adrian, exchanging the words "I love you".
His bloody, battered face contrasts with her unblemished beauty (pictured right).
Lessons for success and ethics
1. Losers can win
People think Rocky and Adrian are losers, but they win through to find happiness and success together.
2. Set yourself challenging, worthwhile goals
Rocky achieves the aim of going the full 15 rounds with Creed. This is much more worthwhile than his previous job of working for a loan shark.
3. The best things don't come easily
Rocky's moral victory over Creed requires enduring:
derision (particularly from the media).
a gruelling training schedule.
4. Be positive
Despite being the underdog, Rocky is positive about fighting the world champion.
5. Find friends and self-confidence
Rocky finds strength and support from Adrian. She and his trainer, Mickey:
encourage him before the fight.
give him the self-confidence to succeed.
6. Be assertive
Rocky and Adrian stand up for themselves in the face of:
Mickey's initial advice to retire.
Rocky tells her that, if he goes the full 15 rounds, he will prove to himself for the first time that he isn't a born loser.
7. Kindness is cool
Rocky:
takes the 12-year-old girl home.
allows a desperate man more time to repay his loan.
Despite Paulie's violent bullying, Ricky still allows him to earn $3,000 by advertising his employer on the back of his robe for the big fight.
Key quotes on relationships
You hang out with nice people, you get nice friends, Rocky (to a 12-year-old girl on the streets)
Key quote on sport
The worst thing about fighting is the morning after, Rocky (to Adrian about injuries)
Key quotes on success
Beethoven was deaf, Helen Keller was blind. I think Rocky's got a good chance, Adrian (to Paulie).
I don't owe you nothin'. And you made me feel like a loser. I'm not a loser, Adrian (to Paulie).
Two film websites to recommend
1. filmsite.org (run by Tim Dirks).
2. aveleyman.com (run by Tony Sullivan)