Sense and Sensibility - Success and Influence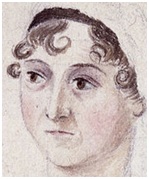 Sense and Sensibility (1811)
Written in 1795 by the English novelist, Jane Austen (1775-1817), pictured right.
Fun facts
• The first novel Jane Austen ever wrote
• Its first title was Elinor and Marianne.
What about the 1995 film?
It starred:
Emma Thompson (as Elinor and Oscar winner for best screenplay, pictured right).
Alan Rickman (Colonel Brandon , also Snape in the Harry Potter films!).
Hugh Grant (Edward Ferrars).
Key characters
Elinor (Dashwood), young lady
Marianne, her younger sister
(John) Willoughby, handsome young man
Edward (Ferrars), Elinor's sweetheart
Colonel Brandon, a friend of the Dashwoods
The story
Henry Dashwood dies and gives all his money to his first wife's son, John.
His second wife and three daughters (Elinor, Marianne and Margaret) are left with little income.
They have to:
leave their home in West Sussex (where Elinor falls in love with Edward Ferrars, John Dashwood's brother-in-law)
move to a cottage on the Devon estate of their relatives, Sir John and Lady Middleton.
They meet:
Colonel Brandon (a retired army officer and bachelor)
handsome John Willoughby (who rescues Marianne after twisting her ankle walking).
Willoughby and Marianne fall in love, and Marianne is heartbroken when he suddenly goes to London.
A relative of Lady Middleton, Lucy Steele, tells the heartbroken Elinor that she has been secretly engaged to Edward for a year. On hearing this, his furious mother disinherits him, because she wants him to marry the wealthy Miss Morton.
Elinor and Marianne travel with Mrs Jennings, Lady Middleton's mother, to London where Marianne sees Willoughby at a party.
(Elinor, Emma Thompson, and Marianne, Kate Winslet, are pictured right in the film)
But he cruelly rebuffs her and sends her a letter saying he never loved her. He has become engaged to the wealthy Sophia Grey and eventually marries her.
Elinor and Marianne then visit family friends in Somerset, where Marianne is seriously ill. Willoughby visits her and tries to explain his misconduct, saying he married only for money and still loves her.
She forgives him (after Elinor defends him) and realizes she wouldn't have been happy with him anyway.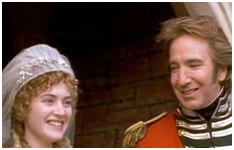 Marianne begins to fall for Colonel Brandon who has discovered that Willoughby fathered and abandoned the illegitimate child of a 16-year-old girl, Eliza, Brandon's foster daughter and the daughter of his ex-lover.
Then Elinor hears that Lucy and Edward are to marry. She is overjoyed when Edward arrives and tells her that Lucy has left him and is to marry his younger brother, Robert.
Elinor accepts Edward's proposal.
Marianne and Colonel Brandon also marry (pictured right above in the 1995 film).
Lessons for success and influence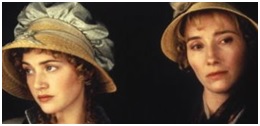 1. You need both sense and sensibility
Elinor and Marianne (pictured right in the film) learn that successful relationships require:
sense (based upon a rational analysis of people's strengths and weaknesses), and
sensibility (being guided by your feelings).
Marianne's betrayal by Willoughby shows that feelings can be misleading.
2. Do your duty
Edward feels duty bound to honour his promise to marry Lucy even though he really loves Elinor.
He honours his promise to marry Lucy, so losing:
any contact with his furious mother.
Edward (Hugh Grant) is pictured right in the 1995 film
3. Selfish greed isn't good
John, the son of Henry Dashwood's first wife, is persuaded by his wife, Fanny, to ignore his father's wish that he should support his second wife and their three children, Elinor, Marianne and Margaret.
Lucy is also selfish when she dumps Edward on hearing he has been disinherited.
4. First impressions can be misleading
Willoughby is handsome, charming and intelligent.
But he deceives Marianne and has an illegitimate child with Eliza, Colonel Brandon's foster daughter.
Willoughby (Greg Wise) is pictured right in the 1995 film.
5. Give people your time and attention
Colonel Brandon:
is the only person to properly listen to Marianne's piano playing.
doesn't let his worries (like the disappearance of Eliza's daughter) adversely affect his relationships.
Brandon (Alan Rickman) is pictured right with Marianne (Kate Winslet) in the 1995 film.
6. Self-control is splendid
With enormous willpower, Elinor conceals her devastating news that the love of her life, Edward, is to marry Lucy.
Marianne also learns, after her passionate infatuation with Willoughby, that she will be happier if she controls her emotions. Grief stricken by Willoughby's abandonment:
"She was without any power, because she was without any desire of command over herself".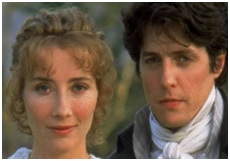 7. Love is friendship
Edward and Elinor (pictured right together in the film) are so happy because they are good friends as well as lovers.
Key quote on careers
I am afraid that the pleasantness of an employment does not always evince its propriety, Elinor
Key quotes on relationships
Sense will always have attractions for me, Elinor
It is not time or opportunity that is to determine intimacy; it is disposition alone, Marianne on the importance of character (disposition) in relationships.
Elinor was to be the comforter of others in her own distresses, no less than in theirs.
Key quotes on happiness
I wish, as well as everybody else, to be perfectly happy; but, like everybody else, it must be in my own way, Edward
Know your own happiness, Mrs Dashwood (to Edward)
Money can only give happiness where there is nothing else to give it. Marianne
Key quote on death
Death ... a melancholy and shocking extremity, Elinor
Key quote on time management
A man who has nothing to do with his time has no conscience in his intrusion on that of others, Marianne
Key quote on empowerment
She was without any power, because she was without any desire of command over herself (talking about Marianne)
Key quote on communication
I detest jargon of every kind, Marianne
Two literature websites to recommend
1. sparknotes.com
2. litcharts.com