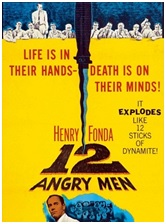 Twelve Angry Men - Ethics and Leadership
Twelve Angry Men (1957)

Famous for...
Henry Fonda's performance as the leader of a twelve man jury in a murder trial, fighting for justice.
Controversially he didn't even receive an Oscar nomination.

Director
Sidney Lumet (pictured right) also the director of the whistle-blowing film, Serpico.
Oscars
None
The Bridge on the River Kwai got most of the Oscars that year.
Key character
Juror 8 (Henry Fonda), leader of the jury (pictured right).
The story
A poor (Puerto Rican or Hispanic) 18-year-old youth is on trial in a New York court for murdering his father with a knife.
If found guilty, he (pictured right) will be executed by the electric chair. He says he is innocent, because:
he was at the cinema at the time of the murder.
his knife fell through his pocket.
After the six day trial, the twelve man, all white jury (pictured right below) retires to consider their verdict, having been reminded by the judge that the boy must be found innocent, if there is any reasonable doubt about his guilt.
On a boiling hot day all the jurors vote for his conviction except Juror 8, an architect (later called Davis), who persuades his weary colleagues to re-examine the evidence.
His defence of the accused drags on into an even hotter night.
He gradually wins the others over until they unanimously vote for a not guilty verdict.
Lessons for ethics and leadership
1. We have a duty to others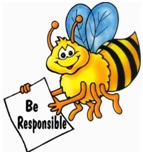 The jury has someone's life in their hands but only Juror 8:
takes this responsibility seriously.
The others show how easy it is to be lazy, indifferent and unloving to others, particularly if they come from a poor ethnic minority like the boy charged with murder.
Juror 7 (a salesman) is more anxious about seeing an evening baseball game.
Juror 12 is more concerned about his career in advertising.
2. Stand up for what is right
Juror 8:
shows great courage and determination defending the boy.
says he can't be convicted because there is reasonable doubt about his guilt.
emphasizes the boy deserves their attention (because of his incompetent lawyer and bad upbringing).
The boy: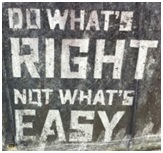 lost his mother when he was nine.
(since he was five) was beaten up by his father.
Juror 11 asks Juror 7:
"Don't you have the guts to do what you think is right?"
3. Seek the truth
Juror 8 is a hero, because he: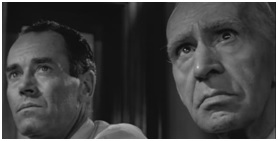 relentlessly pursues the truth.
says that someone else with a similar knife could have committed the murder.
points out that the key prosecution witness wasn't wearing her glasses when she allegedly saw the boy do the murder.
gradually persuades the others (despite constant criticism from them) - pictured right above with the first juror he won over.
4. Integrity inspires
The other jurors are won over by Juror 8's:
This makes him the jury's leader, even though he's not their appointed leader (see point 5).
5. Power beats position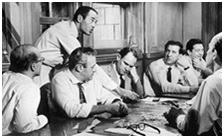 Juror 1 is chosen as foreman to lead the jury, but Juror 8 (pictured right) becomes the real leader through his:
conviction (based upon his dedication to the truth).
knowledge (which gives him power over the others).
6. Beware of arrogant prejudice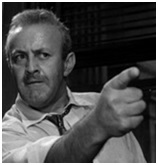 The last juror to be won over (Juror 3, Lee J. Cobb, pictured right) runs a messenger business. He is:
Juror 10 thinks he's guilty only because he is
7. Accept your own ignorance
Juror 8 is a hero because he convinces the others to humbly accept that they may be wrong.
Juror 9 (the first person to support him) tells Juror 10 :
"Do you think you were born with a monopoly on the truth?"
8. Be empathetic and kind
Juror 8 tells the others to see the case from the charged man's point of view. He asks Juror 6:
"Suppose you were the one who was on trial?"
Juror 8 acts with kindness as well as tough resolution. After the final unanimous verdict, he helps Juror 3 (his violent adversary) on with his jacket, when he is upset about his son.
9. We are all capable of greatness
Juror 8 was an ordinary guy (an architect called Davis) who did something extraordinary - he saved someone's life by the power of persuasion.
Key quotes on law and ethics
It's not easy to raise my hand and send a boy off to die without talking about it first, Juror 8 .
Don't you have the guts to do what you think is right?, Juror 11 (to Juror 7)
Key quote on wisdom
Prejudice always obscures the truth, Juror 8.
Do you think you were born with a monopoly on the truth?, Juror 9 (to Juror 10)
Key quote on influencing people
It's not easy to stand alone against the ridicule of others, so he gambled for support - and I gave it to him. I respect his motives, Juror 9 (talking about Juror 8)
Two film websites to recommend
1. filmsite.org (run by Tim Dirks).
2. aveleyman.com (run by Tony Sullivan)