Poetry - Death
Dylan Thomas (1914-53), Do Not Go Gentle Into That Good Night (1952)

The Welshman's (pictured right) famous poem about living life to the full and not giving in to dark thoughts about old age and death:
Do not go gentle into that good night.
Rage, rage against the dying of the light.
(last two lines)
Dylan Thomas, And Death Shall Have No Dominion (1936)
In this poem Thomas gives us hope by saying that death isn't the end of life, because our spirit lives on forever:
And death shall have no dominion.
Dead men naked they shall be one
With the man in the wind and the west moon;
When their bones are picked clean and the clean bones gone,
They shall have stars at elbow and foot;
Though they go mad they shall be sane,
Though they sink through the sea they shall rise again;
Though lovers be lost love shall not;
And death shall have no dominion.
(first verse)
W.H. Auden (1907-73), Funeral Blues (1938)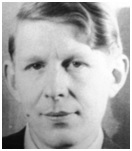 The Englishman's (pictured right) poem (also known as Stop All the Clocks) was read out in the film, Four Weddings and a Funeral, by John Hannah as a eulogy for his dead friend.
The penultimate verse is particularly poignant:
He was my North, my South, my East and West,
My working week and my Sunday rest,
My noon, my midnight, my talk, my song;
I thought that love would last forever: I was wrong.
Christina Rossetti (1830-94), Remember (1862)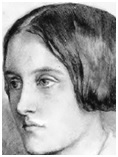 The English poet (pictured right) tells us not to mourn a dead loved one but to get on with life:
Better by far you should forget and smile
Than that you should remember and be sad.
(last two lines).
This sentiment re-appears in another of her poems, Song:
When I am dead, my dearest,
Sing no sad songs for me;
Plant thou no roses at my head,
Nor shady cypress tree:
Be the green grass above me
With showers and dewdrops wet;
And if thou wilt, remember,
And if thou wilt, forget.
(first verse)
Mary Elizabeth Frye (1905-2003), Do Not Stand at My Grave and Weep (1932)

The American poet (pictured right) gives comfort for the bereaved by reminding them that the spirit of their dead loved ones is eternally present in nature:
Do not stand at my grave and weep,
I am not there; I do not sleep.
I am a thousand winds that blow,
I am the diamond glints on snow,
I am the sun on ripened grain,
I am the gentle autumn rain.
When you awaken in the morning's hush
I am the swift uplifting rush
Of quiet birds in circling flight.
I am the soft star-shine at night.
Do not stand at my grave and cry,
I am not there; I did not die.
(complete poem)
Nicholas Evans (1950- ), Walk Within You (2001)

The English writer's poem (in his book, The Smoke Jumper) also emphasizes an eternal spirit
For just as death is part of life,
The dead live on forever in the living.
(lines 5 and 6)
John Donne (1572-1631), Death Be Not Proud (c.1610)
The English poet (pictured right) says that death is nothing to be afraid of:
Death, be not proud, though some have called thee
Mighty and dreadful, for thou art not so;
For those whom thou think'st thou dost overthrow
Die not, poor death, nor yet canst thou kill me.
From rest and sleep, which but thy pictures be,
Much pleasure; then from thee much more must flow,
And soonest our best men with thee do go,
Rest of their bones, and soul's delivery.
Thou art slave to fate, chance, kings, and desperate men,
And dost with poison, war, and sickness dwell,
And poppy or charms can make us sleepe as well
And better than thy stroke; why swell'st thou then?
One short sleep past, we wake eternally,
And death shall be no more; Death, thou shalt die.
(complete poem)
Emily Dickinson (1830-86), Because I Could Not Stop for Death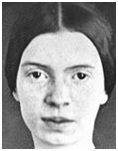 The American poet (pictured right) reminds us that the fear of death can also be overcome by the Christian belief in eternal life:
Because I could not stop for Death,
He kindly stopped for me;
The carriage held but just ourselves
And Immortality.
(first four lines).
Alexander Pope (1688-1744), The Dying Christian To His Soul (1712)

The English poet (pictured right) also gives a Christian perspective on death.
The world recedes; it disappears!
Heav'n opens my eyes! my ears
With sounds seraphic ring!
Lend, lend your wings! I mount! I fly!
O Grave! where is thy victory?
O Death! where is thy sting?
(last verse)
Anne Brontë (1820-49), Farewell
The English poet (pictured right) finds comfort and grief from the memory of a deceased loved one:
Farewell to thee! but not farewell
To all my fondest thoughts of thee:
Within my heart they still shall dwell;
And they shall cheer and comfort me.
O, beautiful, and full of grace!
(first five lines)
And who can tell but Heaven, at last,
May answer all my thousand prayers,
And bid the future pay the past
With joy for anguish, smiles for tears? "
(last verse)
Henry Wadsworth Longfellow (1807-82), Victor and Vanquished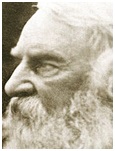 The American poet (pictured right) describes courageously facing death and triumphing over it:
As one who long hath fled with panting breath
Before his foe, bleeding and near to fall,
I turn and set my back against the wall,
And look thee in the face, triumphant Death,
I call for aid, and no one answereth;
I am alone with thee, who conquerest all;
Yet me thy threatening form doth not appal,
For thou art but a phantom and a wraith.
Wounded and weak, sword broken at the hilt,
With armour shattered, and without a shield,
I stand unmoved; do with me what thou wilt;
I can resist no more, but will not yield.
This is no tournament where cowards tilt;
The vanquished here is victor of the field.
(complete poem).
John Keats (1795-1821), When I Have Fears That I May Cease To Be (1818)
The English poet (pictured right) is fearful of death when he can no longer write, and love and fame disappear (in the last line):
When I have fears that I may cease to be
Before my pen has gleaned my teeming brain,
Before high-piled books, in charact'ry,
Hold like rich garners the full-ripen'd grain;
When I behold, upon the night's starr'd face,
Huge cloudy symbols of a high romance,
And think that I may never live to trace
Their shadows, with the magic hand of chance;
And when I feel, fair creature of an hour!
That I shall never look upon thee more,
Never have relish in the faery [fairy] power
Of unreflecting love!—then on the shore
Of the wide world I stand alone, and think
Till Love and Fame to nothingness do sink.
(complete poem)
Roger McGough (1937- ), Let Me Die A Youngman's Death (1967)

The English poet (pictured right) looks forward to a nice death:
When I'm 73
and in constant good tumour
may I be mown down at dawn
by a bright red sports car
on my way home
from an allnight party
(second verse)
Ella Wheeler Wilcox (1850-1919), Courage (1883)

The American poet (pictured right) says face your problems (including death) with courage.
There is a courage, a majestic thing
That springs forth from the brow of pain, full-grown,
Minerva-like, and dares all dangers known,
And all the threatening future yet may bring;
Crowned with the helmet of great suffering,
Serene with that grand strength by martyrs shown,
When at the stake they die and make no moan,
And even as the flames leap up are heard to sing.
A courage so sublime and unafraid,
It wears its sorrows like a coat of mail;
And Fate, the archer, passes by dismayed,
Knowing his best barbed arrows needs must fail
To pierce a soul so armoured and arrayed
That Death himself might look on it and quail.
(complete poem)