Pride and Prejudice - Love and Success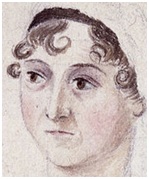 Pride and Prejudice (1813)
Written in 1813 by the English novelist, Jane Austen (1775-1817), pictured right.
Set in England in the early 1800's.
Fun facts
• Its first title was First Impressions.
• A 1995 BBC TV adaptation starred Colin Firth as Darcy (pictured right).
• A 2005 film starred Keira Knightley as Elizabeth Bennet.
What's the link with Bridget Jones's Diary?
Its author, Helen Fielding, based the book on Pride and Prejudice:
Bridget (Renée Zellweger in the film) is like Elizabeth.
Mark (Colin Firth) is the Darcy character.
Daniel (Hugh Grant), the Wickham-like villain.
They are all pictured right in the film poster (Hugh Grant is on the right)
Key characters
Elizabeth Bennet, clever and pretty young lady.
(Fitzwilliam) Darcy, extremely wealthy young man.
Jane Bennet, Elizabeth's eldest sister.
(Charles) Bingley, Darcy's best friend.
(George) Wickham, handsome army officer.
The story
Mr and Mrs Bennet live in rural Hertfordshire, north of London, with their five daughters.
The eldest two are: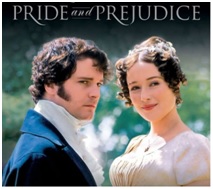 Jane (who falls in love with the rich Charles Bingley).
Elizabeth (who dislikes the rich and superior Fitzwilliam Darcy, Bingley's friend).
Elizabeth is charmed by a young soldier, George Wickham, (whom Darcy hates).
She rejects a marriage proposal from the self-righteous clergyman, William Collins (who then marries her friend, Charlotte Lucas).
Elizabeth:
doesn't like Darcy's criticism of Wickham's extravagance and womanizing.
is furious when she learns that Darcy advised Bingley against marrying Jane (who is devastated by his consequent disinterest).
So Elizabeth refuses a proposal from Darcy, who is now smitten by her beauty and intelligence.
Elizabeth visits Darcy and his sister, Georgina, at Pemberley, his stately home in Derbyshire, and he is extremely kind.
News arrives that Elizabeth's younger teenage sister, Lydia, has eloped with Wickham.
Out of love for Elizabeth, Darcy gives them lots of money to make Wickham marry her and pay off his debts.
Darcy and Elizabeth (and Jane and Bingley, who were always in love) finally marry and they are all very happy.
Lessons for love and success
1. Beware of pride and prejudice
Darcy (pictured right with Elizabeth, Jennifer Ehle, in the BBC production) has:
prejudice (against Elizabeth's family).
These:
mask his true qualities (integrity and kindness).
make Elizabeth initially dislike him.
2. Learn and understand people
Elizabeth honestly accepts she was totally wrong about Darcy despite:
asking him a lot of questions.
being a "studier of character" (as Bingley describes her).
This shows that first impressions can be misleading.
Elizabeth (Keira Knightley) is pictured right in the 2005 film.
3. Self-discipline is sexier than sex
Lydia faces ruin with Wickham at a time when pre-marital sex was considered shameful.
She is saved by marriage, resulting from Darcy's money.
4. Money is important but insufficient
Darcy's money: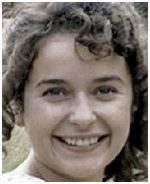 enables him to help Lydia
makes him more attractive to Elizabeth.
But she is more interested in his character.
Lydia (Julia Suwalha) is pictured right in the 1995 BBC production.
5. Business is respectable
When Jane Austen was writing, the Industrial Revolution saw a big shift in Britain from agriculture to industry.
The landowning aristocrats like Darcy derided the rising class of businessmen (which Elizabeth also hates).
But one businessman (Elizabeth's uncle, Mr Gardiner) surprises Darcy with his intelligence and good character.
The fortune of Bingley's dead father (another businessman) enables Bingley to buy a big stately home like Darcy's!
6. Women are the equal of men
Elizabeth:
totally rejects female inferiority and subservience (as preached by Mr Collins).
Darcy is won over, he says, by her "liveliness of mind".
Elizabeth (Keira Knightley) and Darcy (Matthew Macfadyen) are pictured right in the 2005 film.
7. Hate hypocrisy
Despite being a church minister, Mr. Collins:
fails to forgive Lydia for her relationship with Wickham.
advises her family to abandon her.
Mr. Collins (David Bamber) is pictured right in the 1995 BBC production.
8. Parents have responsibilities
Mr Bennet:
continually escapes to his library.
neglects his three younger daughters
doesn't give Lydia any guidance about the right way to behave with men like Mr Wickham.
Mrs Bennet isn't much better - she even encourages her to move to Brighton, near the lustful soldiers' new camp!
Mr. and Mrs. Bennet (Benjamin Whitrow and Alison Steadman) are pictured right in the 1995 BBC production.
9. Exercise is good for you
Elizabeth benefits enormously from her three mile walks to visit her sister, Jane.
Darcy admires her eyes which "have been brightened by the exercise".
10. Luck is important
Elizabeth and Jane are lucky to have men who are not only nice but wealthy.
"Happiness in marriage is entirely a matter of chance", says Charlotte (who marries the horrible Mr Collins).
Jane (Rosamund Pike) is pictured right in the 2005 film.
11. The best partners make you better people
Darcy, once a spoilt child, is cured of his selfishness by Elizabeth's:
courage (to challenge his opinions and attitudes).
Key quotes on marriage and women
It is a truth universally acknowledged that a single man in possession of a good fortune must be in want of a wife, the book's famous first line.
Loss of virtue in a female is irrefutable ... one false step involves her in endless ruin, Mary (Elizabeth's sister)
A lady's imagination is very rapid; it jumps from admiration to love, from love to matrimony, in a moment, Darcy
Happiness in marriage is entirely a matter of chance, Charlotte
Key quotes on ethics
I have been a selfish being all my life, in practice, though not in principle, Darcy
Nothing is more deceitful than the appearance of humility, Darcy
Key quotes on love
Vanity, not love, has been my folly, Elizabeth
There are very few of us who have heart enough to be really in love without encouragement, Charlotte
Pride relates more to our opinion of ourselves, vanity to what we would have others think of us, Mary

Key quote on decision making
The power of doing anything with quickness is always much prized by the possessor, and often without any attention to the imperfection of the performance, Darcy
Key quote on corporate social responsibility
Society has claims on us all.
Key quote on influence
My good opinion once lost, is lost forever, Darcy
Laugh as much as you choose, but you will not laugh me out of my opinion, Jane (to Elizabeth)
Key quote on the past
Think only of the past as its remembrance gives you pleasure, Elizabeth (to Darcy)
Two literature websites to recommend
1. sparknotes.com
2. litcharts.com
A big thank you to...
The BBC for the pictures.