Susan B. Anthony and Elizabeth Cady Stanton - Suffragettes and Women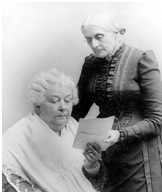 Susan B. Anthony (1820-1906) and Elizabeth Cady Stanton (1815-1902)
American suffragettes (pictured right- Stanton is seated) who fought for equal rights (including the vote) for women and African Americans.
Anthony was the first woman to appear on American currency in 1979.
Why were they successful and influential?
1. Courage and purpose
In the face of intense male opposition, they fought for women's equality and were fervent supporters of Thomas Jefferson's (pictured right) maxim
"Resistance to tyranny is obedience to God".
Anthony's motto was:
"Men their rights and nothing more, women their rights and nothing less".
2. Teamwork
They met in 1851 after a lecture by the abolitionist, William Lloyd Garrison (pictured right) and discovered they had complementary skills to make a great team.
Anthony was reserved and brilliant at analysing facts and statistics.
Stanton was an energetic and extroverted philosopher and speaker.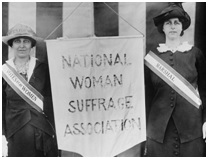 3. Suffragette campaign
Anthony and Stanton:
formed the National Woman Suffrage Association in 1869 (two members are pictured right in 1913).
publicized their fight for the rights of women and African Americans in their newspaper, The Revolution.
published the first three volumes of the influential book, History of Woman Suffrage (from 1881 to 1886).
.
Anthony voted in the 1872 presidential election for which she was fined $100 but never paid it.
In court she famously declared that everyone, including women and blacks, were entitled to the same rights under the American Constitution.
4. Inspiration
They inspired the next generation of suffragettes who finally won the vote for American women in 1920.
Key quotes on women (Susan B. Anthony)
Men their rights and nothing more, women their rights and nothing less
Woman must not depend on the protection of man but must be taught to protect herself.
Independence is happiness.
Key quotes on women (Elizabeth Cady Stanton)
So long as women are slaves, men will be knaves.
Self-development is a higher duty than self-sacrifice.
The Bible and the Church have been the greatest stumbling blocks in the way of women's emancipation.